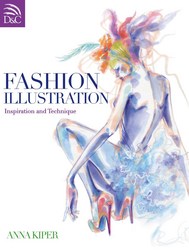 A hand drawing creates a direct connection to the artist, expressing the individual style, energy and creativity.
(PRWeb UK) February 7, 2011
Born and brought up in Russia during the Cold War, leading fashion designer Anna Kiper spent her childhood in a world untouched by Western fashion trends, one that was full of grey uniforms, emotional restraint and hostility towards creative expression and individuality.
It is extraordinary that, from a background such as this, Anna became inspired by art and fashion. Despite the hardships of emigration to the United States, she followed her dreams and went on to a career as one of New York City's most highly respected fashion designers, who has worked for companies such as Calvin Klein and Mondi, and has dressed celebrities including Nicole Kidman and Halle Berry for red carpet events and magazine covers.
Anna has always had a great passion for illustration, and believes that the magic of an artist's hand creates a unique relationship between the artist, the artwork and the viewer. Her utterly breathtaking illustrations in her book Fashion Illustration are beautiful artworks in their own right.
Fashion Illustration: Inspiration and Technique
by Anna Kiper
Anna Kiper's book Fashion Illustration is a complete fashion school for drawing and painting fashion figures, garments, accessories and fabrics, from how to draw the basic fashion figure to collage and other novelty techniques.
-- Achieve movement and attitude in figure drawing by following a few simple steps
-- Develop striking and energetic page compositions
-- Explore effortless ways to illustrate print, textures and embellishments
-- Discover an exciting variety of media and techniques to enrich your individual drawing style
Anna Kiper is a leading New York City based fashion designer and professor at the USA's two most prestigious fashion colleges, the Fashion Institute of Technology and the Parsons School of Design. Her work has been widely published in books and magazines, and her illustrations have been exhibited at highly respected venues in the United States. Visit Anna's website: http://sites.google.com/site/fashionillustrationart/
To request a review copy or author interview, jpegs of the book cover or interior images, or to set up a reader offer of £3 off plus FREE p&p, please contact Susie Hallam susie(dot)hallam(at)fwmedia(dot)com 01626 323259
"A hand drawing creates a direct connection to the artist, expressing the individual style, energy and creativity"

from Anna Kiper's introduction to her new book Fashion Illustration
ISBN: 0 978 07153 3618 2
144 pages over 300 colour illustrations
£16.99 paperback
###