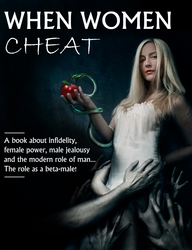 In modern relationships, men are conditioned into accepting their own sexual inabilities when it comes to satisfying their women year after year as well as their drops in testosterone levels and social ranking towards modern women
Beverly Hills, CA (PRWEB) February 9, 2011
In this new book, the author takes a closer look at the chemistry of love and why almost all of us at some point "loose the spark" in our relationship and why it appears that the presence of a third person might be what can re-ignite the flame. But not without dangerous risks.
In a Danish radio show, author David Nicosia Longhi said:

Sexual rivalry between men is one of the top motives when men kill other men and this can be chained back to the fact, that testosterone levels rise extremely much, when another man tries to interfere with the solid relationship of a steady couple plus the general loss of honor and pride. Even though biology isn't an excuse for bad behavior we have to look at some specific behavior linked directly to the fact that higher level of testosterone can either make a man prone to violence or sexual excitement, generally speaking. Besides this angle, we need to be worried about the general drop in testosterone levels in men, which is particularly shown with Danish men. Oddly enough, these are also men, whom are socially growing up and being raised in the "modern Amazonia" of the Western World. The link needs to be addressed and viewed upon with new eyes, says the author.
In the book "When Women Cheat" plenty of modern and new research studies are collected and together draw a complex but highly entertaining view on the modern relationships, where men are conditioned into accepting their own sexual inabilities when it comes to satisfying their women year after year as well as their physical disadvantages and drops in testosterone levels and social ranking towards modern women.
-Well, no one is saying that the modern man is a cuckold, but I make a strong statement in my book that there are very clear signals in our society and through technology that points out that men are living in a "latent state of mind" that is very closely linked to the characteristics of a cuckolded man. Some of the indicators are the increasing amount of female infidelity, male insecurity, men's increasing lack of interest in sex and increased consumption of potency pills, their hunger for female acceptance and much more. When looking at these things one by one, they don't mean that much. But putting them together while maintaining a close and constant parallel with a cuckold-mentality you suddenly begin the see certain patterns in modern male conditioning. In Denmark you even see promotions of women having several relationships on the side with various men, while the men themselves can hardly keep up with one single woman. It's a really strange situation and that is why I believe that we will see an increase in submissive males and dominant females in the very near future. Depending on your point of view, this is either good, bad or something in between but either way the book is intended to provoke you into reflecting on your point of views.
Besides the parts of infidelity in the book, there is also a provocative focus on the fact that our love ideals are purely illusions and that modern relationships hardly stand a chance of keeping monogamous.
The book also takes focus on the problems with the increased masculinization of women and thereby the lack of sexual interest from men, who the author believes, will look for sexual alternatives in the future where there is no pressure to perform, since society itself is a performance-society and demands, even from their loving partner is going beyond normal human reach. Men will find alternatives that resemble a biological woman.
-The generalizing long term future for men, beta males, who will have a hard time being attractive or appealing for women, will either drown themselves in internet porn, prostitutes or seek cyber-companions in the form of "realistically looking women" but whom are mere artificial replacements. However this is not something that will happen in the next generation or two, but tendencies are showing in the industry and it is interesting trying to look into the crystal ball with this in mind.
If you want to have an exciting, provocative and entertaining new look on relationships and the modern gender-roles then please read more at WhenWomenCheat.com
If you are interested in promoting the e-book you can find out how here: Affiliates
###