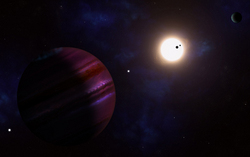 "Kepler-11 is a remarkable planetary system whose discovery has helped us learn more about the diversity of planets in the universe, and develop science fiction into today's reality"
Tampa, Fla (PRWEB) February 10, 2011 –
NASA scientists recently discovered six Earth-sized planets in a new planetary system rotating around a sun-like star called Kepler-11. NASA's Kepler Discovery has reignited excitement among scientists exploring the farthest reaches of the universe for life beyond the Milky Way.
Scientists discovered a group of six Earth-sized exoplanets orbiting a sun-like star named Kepler-11, approximately 2,000 light years from Earth, in the constellation of Cygnus. The discovery marks the first such candidates in the so-called habitable zone, a region where liquid water could exist on a planet's surface. The Kepler-11 system is the most planet-rich system known outside the Earth's solar system. The findings increase the number of planet candidates identified so far by Kepler to over 1,200. Of these, 68 are approximately Earth-size; 288 are two to three times the size of Earth; 662 are Neptune-size; 165 are the size of Jupiter, and 19 are larger than Jupiter.
"Kepler-11 is a remarkable planetary system whose discovery has helped us learn more about the diversity of planets in the universe, and develop science fiction into today's reality," said Ryan Rossotto, President of Stocktrek Images.
The Kepler 11 system was discovered by the space based observation telescope Kepler, using the transit method, which means that the telescope looks for the characteristic dimming of the starlight, which occurs when a planet passes in front of the star in our line of sight. To verify the existence of a planet the space telescope needs to observe the planet at least three times.
As time progresses Kepler may find even more planets around the star Kepler 11. Keep in mind that planets in our own solar system may take as long as 165 years, such as Neptune, to orbit the sun once, and that Kepler 11 may very well host planets that take years to complete one orbit.
For royalty-free stock images of Kepler-11 and the planets rotating around it, Stocktrek Images is a single stop destination for pictures of the new planetary system along with images of earth, the armed forces, weather, the environment, and all aspects of space exploration. All pictures are available from Low-Res to Super-Res and beyond.
About Stocktrek Images
Stocktrek Images specializes in striking stock images highlighting all facets of the Earth, the Armed Forces and space exploration, with a special focus on unique images of military operations and astonomical images of the universe. Stocktrek Images keeps their collection fresh by adding new entries to the encyclopedic library every week. Their seasoned team of image librarians will even seek out images to meet customer special requests. For more information, visit stocktrekimages.com
###