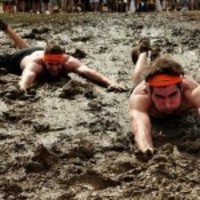 Newburyport, MA (PRWEB) February 14, 2011
More than 5,000 participants will descend upon Highland Park in Cedartown, Georgia, on March 12th and 13th to participate in probably the toughest one-day event on the planet and raise money for the Wounded Warrior Project. Not your typical endurance run, this 10-mile obstacle course is designed by British Special forces to test fitness, stamina, mental strength and all around grit. Come see first hand why Triathlons are for wimps. Hint: it's the same reason we are already sold out 6 months in advance of our 2nd Annual NY/PA event that will take place this coming April 2011. Don't miss what is sure to be the event everyone is talking about!
WHO: More than 5,000 participants from across the US and all walks of life, including Miss Georgia 2009, a team of US Special Forces guys running with backpacks full of bricks, active duty and wounded military servicemen and women, and lawyers and bankers. Tough Mudder participants have included a star from the HBO hit TV Show Entourage, a Biggest Loser, Miss Greater New York, the Paleo Man, college students and many more.
WHAT: Where else can you see more than 5,000 people tackle 20 gasp-inducing obstacles including twelve foot high Berlin Walls, buttered Funky Monkey bars, Murdles (Hurdles in the Mud), Electroshock Therapy (10,000 volts of electricity), and brave Underwater Tunnels and more before running through fire in this 10 mile event. Yes, you heard it right. It's plain and simple run through our blazing kerosene soaked straw and expect 4-foot high flames. Not a bad way to spend a weekend in Georgia. If that's not enough, there will be free tattoos, prizes for best costumes (multiple categories) and toughest mullets, and a Dos Equis Post-Race Party, free live music and more.
The registration fee is $180.00 for the nearly sold out Saturday event, and $160.00 for the Sunday event through March 7th. Note: Press may attend and participate free of charge. Entry Fee Includes: Event t-Shirt, Tough Mudder headbands, a beer, and LIVE music at the post event party.
WHEN: Saturday March 12th and Sunday March 13th. The first start group begins at 9:00 am.
WHERE: Highland Park, Cedartown, Georgia
WHY: We understand toughness comes in many different forms. That's why Tough Mudder is a proud supporter of the Wounded Warrior Project (WWP). To help its cause and to support the needs of severely injured service men and women, Tough Mudders have already raised more than $850,000 to date with more expected at the Georgia event.
CONTACT: For Press information about covering or participating in the event or to schedule a one-on-one interview with the founders or participants, please contact Kendra Boccelli: Kendra(at)boccellipr(dot)com | 1.617.645.3205 | http://www.toughmudder.com
# # #