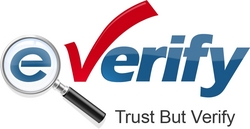 Find Criminal Records, Marital Status and More – In Minutes
(PRWEB) February 9, 2011
Boston-based eVerify today announced the launch of a background check service that provides instant access to a person's criminal record, marriage records and other information.
While technology has made everyone vulnerable to scam artists, criminals and sex offenders, eVerify gives consumers a way to fight back and protect themselves. eVerify is based on proprietary search technology that taps into more than a billion records.
"eVerify not only protects people, it provides peace of mind," according to General Manager Alon Cohen. "While there is, of course, no guarantee that the person you're dealing with will be honest, eVerify will identify any potential problem areas. eVerify gives consumers the information they need, when they need it."
By entering a person's name, phone number, address or e-mail address into eVerify's easy-to-use background check system, consumers can learn a person's complete history.
Simply log in, enter the information, and eVerify will search through multiple databases simultaneously, creating a report that includes a profile page with address, marriage records, date of birth and other information; any criminal records; a listing of neighbors and relatives; vital records; property ownership, and information about the area where the person lives.
A "Deep Web Search" feature enables users to dig deeper, adding information from social media and other online sources to the background check. Customer service representatives are available at no extra charge when help is needed.
Why conduct a background check? Consumers who use online dating services, who are considering making a purchase from someone or who are otherwise putting themselves in a compromising position can conduct a background check to ensure that the person they're going to be dealing with is a reputable person without a criminal past. They can also determine whether the person is honest by, for example, validating information such as marital status and place of residence.
eVerify was created because of the growing incidence of online crime, including scams and crime relating to online relationships, according to Cohen.
Online Schools found that one out of 10 users of online dating is a scammer, and one out of 10 sex offenders uses online dating services to meet people. In its most recent annual report, Javelin Strategy & Research found that fraud increased by 12.5 percent in 2009 and now accounts for $54 billion in consumer losses. Javelin has attributed increasing fraud to online scams.
All inquiries and background checks are 100% confidential. Consumers can sign up for a free seven-day trial on the eVerify Web site at eVerify.com.
About eVerify
eVerify of Boston, Mass., was founded to provide consumers with state-of-the-art tools to protect themselves from online scams and criminals. For additional information, visit the eVerify Web site at eVerify.com.
###