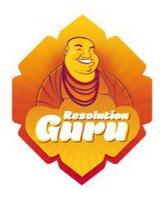 I am loving this site! Thanks for the inspirational quotes and interesting articles. I am recommending this site to all my friends! Thanks Res Gu! - Mother of Three, January 2, 2011
New York, NY (PRWEB) February 14, 2011
PLM Media, LLC has launched a revolutionary new website called Resolution Guru that helps subscribers keep their resolutions and goals with personalized encouragement and inspiration.
When most people make a resolution or goal, they have the best intentions and energy when they start out. Then somehow the hustle and bustle of life takes over and six months later they are at at the same spot. Maybe it would help to have a personal Guru to help remind and encourage them of their goals? Now they can have one - Resolution Guru.
Subscribers to Resolution Guru (or "Rezzies") receive Free Daily Words of Encouragement from their own Guru via email. These Daily Words of Encouragement include inspirational quotes from some of the most inspirational and successful people from the past and present. Besides the Daily Words of Encouragement, ResGu posts thought-provoking articles and tips to inspire users to keep going with their goals. The Daily Posts include the latest news and information on specific resolutions as well as encouraging stories and anecdotes. ResGu adheres to the highest standards of quality and integrity in its postings.
Resolution Guru has a resolution for everyone. ResGu provides inspiration on the most common resolutions (Losing Weight, Quitting Smoking) but ResGu really wants to help users be the best they can be whatever their personal goal. Whether by having Financial Smarts, Giving Back, Being More Spiritual, Fitness and Health, Living in the Moment, Nurturing Relationships, Being the Best You or Being More Green, Resolution Guru has a resolution or goal for everyone who wants to improve. It even has a "miscellaneous" resolution for those unique resolutions in the user's heart.
ResGu is a relatively new website and has already received so much positive feedback from users on how much ResGu has inspired them. Users are also helped through frequent Tweets and Facebook updates.
It apparently does help to have your own Guru!
Please contact info(at)resolutionguru(dot)com for more information or advertising inquiries.
ResGu can also be reached at ResGu at Twitter name Resolutionguru and Facebook.
###