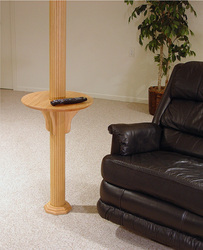 "Pole-Wrap Transforms Ugly Structural Support Poles to Match Finished Basement's Decor"
Troy, MI (PRWEB) February 9, 2011
Pole-Wrap, a manufacturer of a unique wood-paneled decorative product designed to improve the look of basement structural support poles, has expanded its product offerings to include an accessory Drink Shelf to increase the practicality of a basement pole, and an add-on Extension to enable the Pole-Wrap product to be used in basements with higher ceilings.
The Drink Shelf is designed to enable homeowners to use their basement pole as a functional place for guests to place their drinks or other items and comes in sizes to fit 3 inch, 3½ inch and 4 inch diameter poles. The Drink Shelf is available in unfinished solid oak or paintable Medium Density Fiberboard (MDF) to match the Pole-Wrap product.
The add-on Extension comes as a 4-foot extension and can be cut to size to enable it to be used as a Pole-Wrap extender for basement poles up to 12 feet high. The extension comes in the same 12, 16 or 48-inch widths and the same oak or paintable MDF as the standard Pole-Wrap product. Pole-Wrap recommends purchasing the Drink Shelf along with the Extension to completely hide the seam at the top of the Extension.
The paintable MDF Drink Shelf's suggested retail price is $60, and the suggested retail price for the Oak Drink Shelf is $78. The suggested retail price for the Extension unit ranges from $29 to $78 depending on size and type of wood. Prices include shipping to your home or jobsite. The Pole-Wrap product and accessories are available at The Home Depot, Lowe's and other home improvement retailers. Further information is available online at http://www.polewrap.com. Free product samples can also be ordered via the Pole-Wrap website.
About Pole-Wrap®
Introduced in (February 1994), is a home-improvement product designed to transform basement poles necessary for structural support into an elegant part of the décor. The product is made of half inch wide wood panels bonded to a flexible backing, and is available in 8 foot lengths with 12, 16 or 48-inch widths to fit virtually any basement pole.
Pole-Wrap is easy to install by simply cutting it to the length and width desired and gluing it directly onto the pole with any name brand construction adhesive. A cap and base molding can also be added to complete the look of a classic fluted column. Pole-Wrap comes in oak, cherry and maple wood. There is an MDF pre-sanded version for easy paint finishing.
# # #