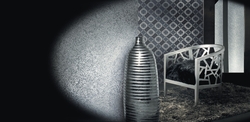 "These exciting new wallpapers embody the new direction of design. Shanghai, with its dramatic skyline, dynamic architecture and vivid culture is the ideal choice for this forward-looking collection."
(PRWEB) February 10, 2011
Shanghai, China is the spectacular backdrop for the newest addition to Studio 465, a wallcovering collection inspired by the world's greatest cities.
"With global market interest growing, wallpaper is back in a big way. These exciting new wallpapers embody the new direction of design," said Beth Lyons, marketing manager, Studio 465. "Shanghai, with its dramatic skyline, dynamic architecture and vivid culture is the ideal choice for this forward-looking collection."
A cool combination of high and low culture, the designs blend ancient Asian design elements with the contemporary energy that is the hallmark of modern-day Shanghai. Traditional textiles, Chinese silk paintings and exquisitely carved lacquer inspired the new patterns and accentuate the importance of harmony in design. The motifs are either simplified or enlarged in scale to capture the essence behind each inspiration. Embellished finishes, raised metallic details in shimmering gold and silver, and colors like red and green, bright and clean with energy and excitement, add another layer of sophistication to a collection that is as unique as the city itself.
All of the papers are printed on pulp sourced from certified and well-managed forests. The production processes rely solely on solvent-free, water based inks. Any water used during production is professionally filtered and cleaned before it is returned to the environment.
In addition to Shanghai, Studio 465 includes six other lines – Brasila, Milano, Buenos Aires, Athens, Stockholm and London – which were introduced between 2009 and 2010. "Studio 465 offers a global perspective and an eclectic design trend that borrows from other cultures. It mixes elements and colors in new ways to create a look that is both new and intriguingly familiar," said Lyons.
To view these and other collections, visit http://www.studio465.com.
###