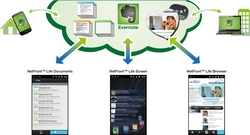 Sunnyvale, CA (PRWEB) February 9, 2011
ACCESS CO., LTD. a global provider of advanced software technologies to the mobile, beyond-PC and digital TV markets, today announced the availability of new versions for three of its NetFront™ Life Series apps for Android smartphones. The updated apps include NetFront™ Life Browser v2.0, NetFront™ Life Documents v2.0 and NetFront Life Screen v2.0. All three apps include integration with the popular Evernote service as a principal new feature. ACCESS has also expanded its NetFront Life app series with the addition of NetFront™ Life Connect, a new solution that brings DLNA (Digital Living Network Alliance) network interoperability and functionality to Android smartphones. The new versions of ACCESS' NetFront Life apps are currently available for download on the Android Market, while NetFront Life Connect will be available for download later in February.
Evernote Service Integration: Browser, Document Viewer, and Screen Apps
Evernote is an award-winning service for mobile devices, PCs and the Web that allows individuals to capture notes, photos, clip web pages, track tasks and to-dos and much more. Content captured in Evernote is instantly synchronized across platforms, making it accessible and searchable from any mobile device or computer. Evernote currently has nearly 7 million users in the US and other markets throughout the world.
The integration of Evernote with NetFront Life version 2.0 apps adds a compelling new level of functionality and utility. For instance, documents accessed or viewed with NetFront Life Documents v2.0 or web page clippings created with NetFront Life Browser v2.0 can be directly saved out to a user's personal Evernote account quickly and seamlessly. NetFront Life Screen includes the Evernote app icon as a pre-installed icon on its Ring List, enabling quick, one-click previews of Evernote content via Screen's Quickview function, with actual data accessible via one additional click.
NetFront Life Connect: Bringing DLNA to Android Smartphones
NetFront Life Connect is a new NetFront Life series app that brings the advanced interoperability and functionality of the global DLNA standard to Android smartphones. NetFront Life Connect enables seamless sharing of digital content, like photos and music, on a user's Android smartphone with other DLNA-certified devices within a home WiFi network. For example, with NetFront Life Connect and a DLNA-certified TV or stereo, a user can send the photos on their smartphone to their TV for viewing or they can send music files to their stereo for playback without connecting any cables or worrying about software or hardware compatibility. NetFront Life Connect also features unique client-side storage of content file data including titles, which facilitates rapid file access and playback.
About NetFront Life
NetFront Life apps cover a wide range of other features and functions that make mobile lives easier and more productive. For additional information, please refer to the attached fact sheet or visit the NetFront Life website at http://www.netfrontlife.com.
About ACCESS
ACCESS CO., LTD. is a global company providing leading technology, software products and platforms for web browsing, mobile phones, wireless handhelds, digital TVs and other networked devices. ACCESS' product portfolio including its NetFront™ series provides customers with solutions that enable faster time to market, flexibility and customizability. The company, headquartered in Tokyo, Japan, operates subsidiaries and affiliates in Asia, Europe and the United States. ACCESS is listed on the Tokyo Stock Exchange Mothers' Index under the number 4813. For more information about ACCESS, please visit http://www.access-company.com.
© 2011 ACCESS CO., LTD. All rights reserved.
ACCESS, the ACCESS logo and NetFront are registered trademarks or trademarks of ACCESS CO., LTD. in the United States, Japan and/or other countries. Android is a registered trademark of Google Inc. DLNA is a registered trademark and DLNA Certified is trademarks of the Digital Living Network Alliance. Digital Living Network Alliance is a service mark of the Digital Living Network Alliance. All other trademarks, logos and trade names mentioned in the document are the property of their respective owners.
###