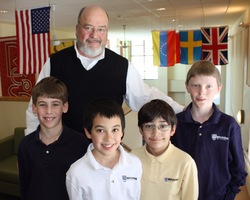 Greenwich, CT (PRWEB) February 8, 2011
Whitby School is proud to announce that five of its students have been recognized as exceptionally academically gifted by The Johns Hopkins University Center for Talented Youth (CTY). These outstanding students received this recognition based on an exceptional performance on rigorous, above-grade-level math and verbal tests given to over 57,000 second through eighth grade Talent Search participants.
Two Whitby students achieved "Top in Country" awards – making Whitby the only school in the United States to have more than one in this highest achieving category. Ethan Tillison achieved this honor in the Quantitative Math category for third graders, and George Wehner was also recognized in Quantitative Math category for second graders. An additional three students received High Honors awards: Jacob Buehler, Jacob Karetsky and Peter Cartine, which placed them among the top scoring students in the country.
In order to even qualify for the rigorous Johns Hopkins talent search test, students must first score in the 95th percentile, or higher, in the math or verbal sections, or through a composite score on one or more subtests of a standardized national test, and/or achievement at advanced levels on state tests. Whitby School had 67% of its students qualify to take the Johns Hopkins test.
"We couldn't be more excited and proud to see such a large number of our students qualifying for the Johns Hopkins Center for Talented Youth program and have more students than any other school achieve top in the country and high honors awards," says Doug Fainelli, Whitby's Headmaster. "This is a tremendous tribute to our engaged and dedicated students, the outstanding faculty and the integrated Montessori and International Baccalaureate program that can accommodate the flexibility necessary to enhance advanced student learning."
Nely Miguel, Dean of Curriculum and Instruction at Whitby, commented that, "These strong test results by the Whitby students are consistent with recently published research from the Bill and Melinda Gates Foundation on the "Measures of Effective Teaching." Miguel added "the research revealed that high test scores are more likely to result from teachers who successfully engage their students, thoroughly cover topics and help them learn from their mistakes as opposed to spending a lot of time practicing for standardized tests."
Fainelli went on to add, "There is currently an intense national dialogue surrounding the film "Race to Nowhere" which highlights the unhealthy pressure on students and their level of disengagement from learning. This latest accomplishment by our students is another testament to the Whitby culture and approach: demonstrating that you can provide a strong academic experience, yet nurture a child's natural curiosity and love of learning in the healthiest of ways, so they are not only engaged, but also prepared to be successful and productive global citizens."
###