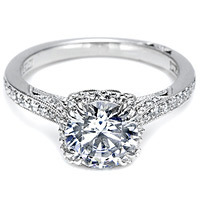 New York, NY (PRWEB) February 8, 2011
In honor of their 100th Anniversary, Since1910.com announced today a 100 day contest, where one customer can enter to win a piece of Tacori jewelry everyday from now through May 1st. One grand prize winner will receive a 1 carat diamond Tacori Engagement ring, valued at $7,500. Four 2nd place winners will be given an 18k925 necklace, valued at $1,500 and 95 3rd place winners will be awarded Tacori jelly bean earrings, a $150 value.
In order to be eligible for the giveaway, participants must "Like" Since1910.com's Facebook page and post a note to explain why they should be a winner. Winners will be selected after all entries are accepted on May 1st. From May 1st to August 1st, one winner will be announced every day and on August 1, Since1910.com will announce the grand prize winner of the 1 carat diamond Tacori engagement ring.
"As a 4th generation family member, I'm proud to celebrate our 100th Anniversary by launching this unique contest," President Michael Gross stated today. "We're excited to give back to the community that has supported us for over 100 years!"
To enter the contest and view official rules, visit Since1910.com.
About Since1910.com:
H.L. Gross & Bro. Jewelers, which manages Since1910.com, is a family owned, fifth generation couture retail jewelry business, established in downtown Brooklyn, New York in the year 1910. The original store was named H.L. Gross & Bro. Jewelers, which it still maintains 10 decades later. Now located in downtown Garden City, Long Island, there are currently 3 generations working together at Since1910.com. Since1910.com specializes in designer engagement rings, GIA certified diamonds and eternity rings.
Since1910.com is a Platinum Tacori Engagement Ring retailer and member of several prestigious industry organizations, including: AGS (American Gem Society), GIA, Jewelers Vigilante Committee, The Retail Jewelers of America, The New York State Jewelers Association and the Better Business Bureau.
###