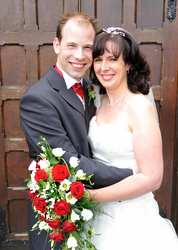 'I had permission from the vicar to pop the question at the end,' recalls Mark Bullard. 'The church was packed - so I couldn't say no, could I?' recalls Jane. 'It was really lovely. We got a standing ovation!'
(PRWeb UK) February 11, 2011
DATING SITE Christian Connection is celebrating its first 10 years - and Valentine's Day 2011 - with a video documenting a string of successful unions, including one marriage proposal during a morning service!
** 'I was sharing my testimony at the front of Crompton Methodist Church in Plymouth, having received permission from the vicar to pop the question at the end,' recalls Mark Bullard.
'The church was packed - so I couldn't say no, could I?' recalls Jane Bullard. 'It was really lovely. We got a standing ovation!'
Jane lived in Blackpool when she first met Mark through Christian Connection. At the time he lived in Bristol but then moved even further away to Plymouth.
'He tried to escape but I got him in the end!' recalls Jane. 'It was a bit of a whirlwind.'
Both Mark and Jane (pictured) are passionate about the importance of organisations like Christian Connection in enabling Christians of many different backgrounds to meet each other.
A poll on the Christian Connection website showed that 87 per cent of their members would either only join a Christian dating site or have a strong preference for one over a general site.
'Understandably, most churches are geared up for families not single people because that is the majority of their demographic,' says Mark. 'Churches don't want to promote things to five people - they want to promote them to 105 people. The only way they'll do that is by bringing in families.'
Christian Connection has been the leading UK site for Christians for more than a decade - with membership numbers almost three times higher than just two years ago. The drive towards even better online community underpins Christian Connection's recent relaunch.
'We serve our members in a whole variety of ways, constantly developing ideas and features,' explains the site's founder and managing director, Jacqueline Elton. 'The internet isn't standing still and nor will we. We have busy forums, instant chat, social events including speed dating of course!
'But what really matters is that people come to us because they trust the site, they trust the ethos and the values. We just are not the same as most other dating sites. And the wonderful is that that translates into the building of real relationships and families.'

A short video clip of Jane and Mark can be seen on http://vimeo.com/19687067
The full six-minute video, presenting four couples and their different stories can be seen here http://vimeo.com/19687756
Hi res pics of Jane and Mark's wedding day can be downloaded
http://gallery.me.com/jackieelton#100068 (ends)
Issued for Christian Connection Jackie Elton, Christian Connection 020 7831 8714, 0777 556 5806 or jelton@widernet.co.uk
Note for editors
Christian Connection is the UK's most popular friendship and dating website.
Visit http://www.christianconnection.co.uk
###