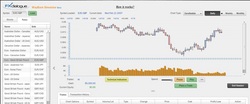 The WayBack Simulator helped me learn how to be a Forex trader and I practiced on it before entering the real financial market
London, UK (PRWEB) February 9, 2011
The WayBack Simulator is the right tool for those traders who wish they could go back in time and replay their trading opportunities. It is a breakthrough tool that has completely revolutionized the way people trade in Forex and Stocks. Never before has any tool made such an impact on the financial market in terms of training. There are no similar tools in the market presently. It is quite an accurate and simple simulation application to help new users get an understanding of the Financial Markets.
"The WayBack Simulator helped me learn how to be a Forex trader and I practiced on it before entering the real financial market," said Stacy, a Forex trader. "You should try out all the options to understand how the market works."
This tool helps compress years of financial trading experience into just a few minutes. With expertly designed technology, people are able to learn what experienced Stock and Forex traders know- and that too without any expense.
This simulator loads its data in graphical format that is represented by a line or a candlestick chart. Users can select the right type of chart according to their needs. The data can be on daily, weekly or monthly intervals, while the speed is variable and can be changed. There are three speed variations and the way the chart moves depends upon the settings selected.
Once users start using this simulator and get an idea of the working of Forex and Stock markets, they can try it out in the real world and see an improvement in your trading skills. The tool showcases some users that have earned billions of virtual dollars in revenue, and they are now better equiped to face the real financial markets.
And since it is more like a free online game, they can compete with others and try to get the winning score, while learning hidden tips of financial markets.
This should come as good news for everyone who wanted to join the line of Forex and Stock traders, but did not know what to do and how to begin. With a little experimentation on this simulator, any new user can get to know how stock exchange and currency exchange markets work in the real world scenario. And the best part of this simulator is that it is free of cost, and so newbie users can freely experiment on it without thinking about the charges.
Users get to select from many options to load data and to begin simulation- just like the real world financial market. It is getting popular since there is no tool similar to the WayBack Simulator- it is absolutely unique. Trading starts with a small amount of cash, and users can build millions after some successful operations. Who knows- with this simulator, there just might be another Warren Buffet!
For more information, contact headquarters at:
707 High Road
London
N12 OBT
United Kingdom
Phone: +44(0) 2033188337
http://www.fxdialogue.com/
###