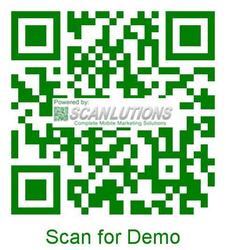 Kansas City, MO, and Or Yehuda, Israel (PRWEB) February 10, 2011
Scanlutions - Complete Mobile Marketing Solutions has partnered with 3GVision to launch the industry leading platform, i-nigma Enterprise Management System. The i-nigma platform is the most comprehensive 1D and 2D barcode management system in the world. The partnership between Scanlutions and 3GVision will join two industry leaders to deliver 1D and 2D barcodes management, creation, interaction, and marketing to the United States.
Scanlutions offers a full suite of mobile marketing solutions and by adding the "best in class" platform to their available services enables Scanlutions to deliver the most cutting edge marketing tools available on the market today. 3GVision's i-nigma platform has been used worldwide by brands, consumers, publishers, agencies, and advertisers to connect consumers with an interactive, engaging experience. The i-nigma platform offers the most robust tracking and analytics of any code management technology available to advertisers and marketing campaigns available, thus bringing true Return on Investment (ROI) to any marketing effort. The unique i-nigma code designer allows the user to save codes in all major formats, embed logos, add footers/headers, change colors, resolution, and code size.
Two-Dimensional (2D) barcodes allow any form of physical advertising to become mobile and expand on the advertisement's message. QR Code or Quick Response Code, the most widely used 2D barcode, has been fully integrated into Asian and European society. Mobile phone users use their smartphone to scan the image using the phone's camera. The application then directs them to a pre-programmed task. The experience happens instantly within seconds and meets the mobile users needs while on the go. The i-nigma platform offers an array of functionality; after a code has been created mobile users can scan the code with their phone and interact.

Save contact details into the phone directly
Pre-load an SMS message to be sent to predetermined number
Call a phone number
Show a message or save a coupon to be redeemed with mobile phone
Visit a website where the user can get more information about the product, news, updates, order a product or service, or sign up to join a loyalty program
Watch a video from a website or load automatically through streaming mobile encoding
"We chose 3GVision because they have such a long history of proven success with 1D and 2D bar codes. They offer the best platform on the market. Period. Scanlutions focus has always been to help brands grow through mobile marketing that can show true success. We offer true measures of ROI and growth to our clients for the highest return on their marketing budget. The key is not only having technology, but what you do with it. We help our clients create their strategy, generate sales, and develop engaging calls to action," said Andy Lynn, CEO and founder of Scanlutions a division of PRONTO! mobile. "Uniting with an industry leader like 3GVision was only natural."
"We found in Andy and the Scanlutions team a combination of proven track record along with an enthusiasm to explore new and exciting uses of the technology," said Avi Marinstrauss, VP Global Sales, 3GVision. "The one-stop-shop approach of Scanlutions is a great merit to their clientele. We are glad that Scanlutions is using i-nigma as the mobile barcode partner in its best-of-breed solutions portfolio.
About 3GVision
3GVision is the global pioneer and leader in mobile barcode solutions and advanced image processing technologies to fast-track consumers to the mobile Internet. 3GVision's i-nigma, the industry's most comprehensive end-to-end 1D/2D barcode solution, incorporates a powerful yet intuitive platform for code creation, campaign management, and advanced metrics reporting. The platform is designed to increase revenue opportunities for mobile operators, and print campaign effectiveness for media and marketing companies. The i-nigma Telco-grade solution offers a fast and easy way for offline media and advertising to connect to the mobile internet, and facilitates mobile solutions for efficient business operations.
Since 2002, 3GVision has embedded over 180 million mobile phones with its 1D/2D barcode readers for global Tier-1 mobile operators such as France Telecom, Telstra and NTT Docomo; mobile handset manufacturers including Nokia, Samsung, LG, Sony Ericsson, and Motorola; and most Japanese handset vendors including Sharp, NEC, Kyocera and Toshiba. Moreover, 3GVision is the 'de facto' industry standard in Japan – the world's first fully developed mobile barcode market. 3GVision was named on the 2010 Deloitte Technology Fast 50 list, for its exceptional growth.
About Scanlutions
Scanlutions, a division of PRONTO! mobile, Complete Mobile Marketing Solutions, enables clients a one-stop mobile marketing and advertising company that combines strategy, training, implementation, and technology to maximize growth of new customers and retention of existing customers. Increasing sales, driving revenue, and building brands' campaigns using mobile applications, 1D and 2D barcodes, text messaging, social media, mobile websites, mobile video encoding, and digital marketing. The company has worked with a wide variety of industries, nationwide publishers such as the Kansas City Business Journal an American Business Journals company, Tier 1 radio stations like Carter Broadcast Group, and many more.
Scanlutions is a division of PRONTO! Mobile a privately held corporation founded by CEO Andy Lynn, based in Kansas City, Missouri, operating and servicing across North America. For more information visit: http://www.scanlutions.com
Contact:
Nathan Wells
http://www.scanlutions.com
Director of Business Development
Scanlutions
888-910-7226
nwells(at)scanlutions(dot)com
http://www.facebook.com/scanlutions
http://www.twitter.com/scanlutions
# # #