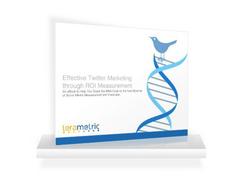 "Here at Terametric we're dedicated to finding the most efficient and effective methods to use Social Media through measurement and analysis," says Wendy Troupe, founder and CEO of Terametric. "We're committed to helping businesses get the
Cambridge, MA (PRWEB) February 9, 2011
Companies of all sizes and technological sophistication struggle with allocating resources for Social Media Marketing, especially when charged with the task of attaching a ROI on their investment. "Effective Twitter Marketing through ROI Measurement" will assist marketers with their quest to assign a monetary value to their Twitter marketing activities and solidify the importance of Social Media Marketing as a business standard.
In this eBook, you will find:
· Historical methods of calculating marketing ROI
· Updated methods to help marketers determine their ROI in social media marketing
· Step-by-step instructions for launching a successful Twitter marketing campaign
· Concrete methods of calculating the ROI of that campaign
· Case studies of Twitter success stories
Visit Terametric's to download the PDF at http://terametric.com/ebook-signup
About Terametric
Terametric delivers social media measurement and optimization solutions that empower marketing executives to maximize the return on their online marketing investments. Terametric customers enjoy comprehensive insight into how social media impacts the organization's marketing mix and how organizations can justify the required investments to achieve their business goals.
Terametric's team brings together comprehensive knowledge of natural language processing, data modeling and machine learning from Massachusetts Institute of Technology (MIT), Intuit, and Fidelity Investments. The company's proprietary methodology predicts which social media marketing activities yield the most optimal return on investment and is based on extensive expertise in queuing theory, systems engineering, and financial modeling.
Terametric is headquartered in Cambridge, Massachusetts.
For more information about Terametric, Please visit http://www.terametric.com.
Follow us on Twitter @terametric
###