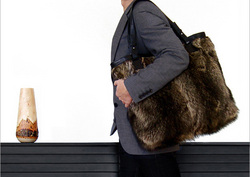 I've always been attracted to objects that are simple, streamlined and fuss-free, I like to let the beauty of the materials communicate without distractions.
Pasadena, CA (PRWEB) February 10, 2011
Who says luxurious designed, custom-made bags are just for women?
Raymond Hau understands that men also enjoy the finer things in life and are just as perceptive and cultivated as their female counterparts, which is exactly why the Los Angeles-based designer has launched an exquisite new line of exotic leather goods and elaborate fine fur bags for both men and women this Spring / Summer season.
Raymond Hau's new luxury line of leather goods and breathtakingly beautiful bags embrace opulent materials such as alligator, ostrich leather and mink fur on unique, contemporary and classic totes, messenger bags and small duffel bag designs.
Every bag is made-to-order and meticulously handcrafted in New York and Los Angeles by trained leather craftsmen under Hau's supervision, using materials and natural hides legally and ethically sourced in the United States.
Hau's distinctive designs continue to cause a stir as men take to the streets and their offices with these fabulous and individualistic bags designed for everyday use. Prices for an exotic leather bag retails from $675 for the hair-on calfskin messenger bag, up to $5,600 for an alligator tote. One-of-a-kind luxe leather accessories are also available, as are customizations, retail exclusives, personal requests and modifications, subject to designer's approval.
You'll also be remarkably impressed by the new irresistible and indulgent iPad cases. Imagine stowing your iPad in a zipped portfolio presentation case made of azure alligator or shark leather! Well imagine no more as you can treat yourself today with Raymond Hau's new sensational selection.
So whether you opt for a high-quality, understated luxury leather Raymond Hau item or a real attention-grabbing elaborate design, you're sure to be both inspired and intrigued with Raymond Hau's new S/S 2011 collection.
View and shop it now at http://www.raymondhau.com.
# # #