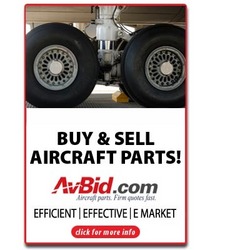 "Some of you have asked - why recreate the wheel when there are already several aircraft parts locators out there that work? The answer is simple - we wanted one that would do more." - Dave Corey - President - AvBid.com
Bennington, VT (PRWEB) February 16, 2011
"We listen to our Members." said David Corey, president of AvBid, Inc. "Some of you have asked - why recreate the wheel when there are already several aircraft parts locators out there that work? The answer is simple - we wanted one that would do more - one that allowed us to shift our focus to growing our business. We believe AvBid is that tool."
Corey recently announced new features he hopes will revolutionize the way AvBid Members do business.
AutoBid is an automatic response system that responds to RFQs for you, ensuring instant replies to your RFQs. A text / email option which notifies you when RFQs and quotes are received, allows staff more freedom and mobility. Direct Connect for inventory maintenance means no more inventories to upload - no more time spent formatting and keeping inventories current! The addition of a Sales/Admin Role puts control of incoming RFQ distribution where it belongs - with the Sales Administrator - so RFQs are assigned to the appropriate team member. A current and historical RFQ report page lists all AvBid RFQ and quote info on one printable screen, making follow-up and budget presentations easy.
Mission accomplished - AvBid takes the work out of buying and selling aviation parts! The best really did get better!
Tom Genovese of Mid-Continent Instruments recently told AvBid staff that "Mid-Continent Instruments continues to grow into new global markets and Avbid's real-time information allows us to quickly respond to customer needs and is easy to use."
AvBid will not only improve your profits and save you time, it will revolutionize the way you do business! Get the better tool to grow your business by calling AvBid at 802-445-2200 or visiting us online at AvBid.com .
About AvBid
The AvBid Staff has a combined 100+ years experience in the Airline, Military, and General Aviation business. We understand the challenges faced by businesses who put out or respond to hundreds of RFQs for parts every day. AvBid grew out of our experience in the procurement process and our determination to make that process a more effective, efficient eMarketplace.
For more information or to sign up for your FREE 2011 TRIAL MEMBERSHIP go to AvBid.com TODAY!
###