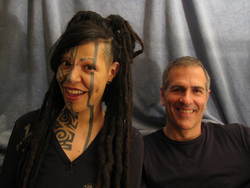 1960's TV shows like "Father Knows Best," "Gidget" and "Leave It To Beaver" have been replaced by "Jersey Shore," "Single Mom" and "Cougar Town."
New York, NY (PRWEB) February 16, 2011
Is America ready for Sheriff Andy Taylor to be a sex maniac with a severe drug addiction? How about his trusted deputy, Barny Fife, being shot 47 times in a drive-by shooting? No? Well, ready or not, that's exactly what's happening. And that's not all. There have been some changes out west, or more precisely to the television show, "Bonanza." It seems Hoss and Adam are now big fans of the film, "Brokeback Mountain." Yes, that's right. Two of television's most famous cowboys are now 100% gay. And so is their dad, Ben Cartwright. And their cherished ranch, The Ponderosa? Well, it seems the plan is to change that pristine piece of landscape into a "gays only" vacation spot. Problem is, a group of uptight crazy heterosexuals don't want that to happen and are willing to go to extreme lengths to prevent it. If all this seems too good (or bad) to be true, fear not. These shows are already done. Brave enough? Read on.
Three unstable, and actually quite funny, independent filmmakers have taken an original episode of each of those television shows, wiped out their soundtracks, and replaced it with music and dialogue they feel better represents what today's television audience craves. "It's a parody of the "Golden Age of Television" said producer and co-writer Mark Zobian, "we wanted to show what was considered appropriate TV back in the 1960's and what's considered appropriate TV today." So what's appropriate? Well, the actors who played some of those famous roles, like Andy Griffith, Don Knotts and Lorne Greene, are now spewing out dialogue that's unprintable. Director/co-writer Jim Riffel said the movie is a comment on today's demented TV schedule. "I think, at this point, TV needs to be committed to an insane asylum," said Riffel. "You look at shows from the early 1960's like "Father Knows Best," "Gidget" and "Leave It To Beaver" and they've been replaced by shows like "Jersey Shore" "Single Mom" and "Cougar Town." Angelica Velez, better known as "Insectavora" from The Coney Island Sideshow, feels the strange movie they've put together with these famous shows is a somewhat surreal experience. "It's kind of like a magical film stew" she said, "like a cross between "The Sound Of Music" and "The Texas Chainsaw Massacre." There's something for everybody."
Well, maybe not everybody. One person who may have something to say about this television tinkering is TV legend Andy Griffith. "We haven't contacted Andy Griffith," said Zobian, "but I think he may have a sense of humor about it. We really didn't mean any disrespect. I watched "The Andy Griffith Show" as a kid and really enjoyed it." Jim Riffel agrees. "I think if Andy Griffith watches our film he'll understand that our intentions we're not to criticize his work but to actually show how great it was." They also haven't sought an opinion from one of the show's other stars, "A-list" Hollywood director Ron Howard who portrayed the beloved character "Opie." "It's amazing watching that show and seeing a young Ron Howard's acting skills," said Insectavora. "He really was a great child actor and portrayed the innocent all-American boy perfectly."
When one looks at today's TV schedule one does have to wonder about the extreme change that has occurred over the last few decades. A classic television show like "Leave It To Beaver" explored the life of a 1960's American family. The themes were fairly innocent, like whether or not Wally should ask a girl to the school dance. Now a typical family show is "Keeping Up With The Kardashians" where an average episode involves one of the daughters discussing with her mom and dad whether she should pose for Playboy.
"I think our movie is a fun way to look at how our world has gone down the toilet" said Insectavora. Riffel agrees. "If they were to remake "The Andy Griffith Show" for TV today they certainly couldn't have that all-American wholesome goodness going on. They'd have to fill it with endless sex and dozens of dead bodies piling up on the sidewalks of Mayberry. No need to worry though. We've taken care of that."
Whether today's television shows are good or bad is completely up to the individual viewer. And whether these shows are more enjoyable than the shows from the 1960's is, again, up to you. But one thing is for sure. Television today is definitely much different than it was in the 1960's. And that's no more evident than in the crazy and oddly enjoyable movie these three filmmakers have put together. The title of the film is "Night Of The Day Of The Dawn Of the Son Of The Bride Of The Return Of The Revenge Of The Terror Of The Attack Of The Evil, Mutant, Hellbound, Zombified, Flesh-Eating Living Dead, Part 5." See it and discover with Andy Griffith and the boys from "Bonanza" where television has taken us.
Contact
Jim Riffel
Blue Crash Film
973-635-9821
BlueCrashFilm(at)aol(dot)com
http://www.NightOfTheDayOfTheDawn.org
# # #