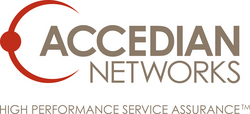 Montreal, Canada (PRWEB) February 9, 2011
Accedian Networks™--the number one provider of High Performance Service Assurance™ solutions for Carrier Ethernet mobile backhaul networks—announces that Mr. George Riedel has agreed to join Accedian Networks' Board of Directors and serve as its Chairman. Throughout his career, Mr. Riedel has been responsible for leading corporate strategy including business development, mergers and acquisitions for a number of highly successful telecommunications innovators including Nortel and Juniper.
"I'm excited to lend my experience in emerging technologies, market opportunities and strategic partnerships to Accedian Networks," said George Riedel, Chief Strategy Officer and President, Business Units for Nortel. "I'm looking forward to helping Accedian continue its growth, and expand its market share world-wide."
"George's strategic thinking and leadership in the telecommunications industry will help Accedian to achieve our commercial goals in 2011," said Patrick Ostiguy, Accedian's President & CEO. "His contacts within the industry will be instrumental in helping us to rapidly develop the partnerships and alliances necessary to accelerate our commercial activities."
Prior to joining Nortel, Riedel was vice president, strategy and corporate development for Juniper Networks, leading corporate strategy, business development and mergers and acquisitions. His previous career experience includes 15 years at the management consulting firm of McKinsey and Company, where he co-led telecom and high-tech practices in North America and Asia. He has also served as an engineering manager at Exxon Co. USA. In addition to Accedian Networks, Riedel also sits on the Boards of Blade Networks and Chromatic Systems.
Riedel holds an MBA from the Harvard Business School and a B.S. in Mechanical Engineering with distinction from the University of Virginia. He is based in Boston.
About Accedian Networks
Founded in 2004, Accedian Networks™ is an industry-leading provider of High Performance Service Assurance™ solutions for Carrier Ethernet and IP networks. Today, the Company is the number one provider of performance assurance solutions for Carrier Ethernet backhaul networks in North America with an installed base of over 40,000 cell sites. The Company's hardware-based EtherNID®, MetroNID® and MetroNODE 10GE™ network interface devices (NIDs) also provide real-world service creation and high-speed, high-performance service assurance for Ethernet business, wholesale access, and carrier to carrier exchange services. These solutions—which far outperform more costly switches, routers and test equipment— enable service providers to establish end-to-end, standards-based Operations, Administration and Maintenance (OAM) over converged multi-technology and multi-provider networks, with value-added services backed by assured Service Level Agreements (SLAs). Accedian's platform is deployed by a global customer base that includes telecommunications providers, cable MSOs and mobile operators offering carrier-grade, packet-based applications. A privately held company, Accedian Networks is headquartered in Montreal, Canada, with regional offices in the U.S., Europe, Latin America and Asia. For additional information, please visit: http://www.accedian.com, or call 1-866-685-8181 or +1 (514) 331-6181.
###