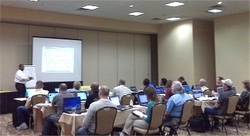 "The reason we created this Ultra Advanced SEO training event was a natural next step in raising the bar on SEO skills excellence."
Orlando, FL (PRWEB) February 10, 2011
Leading SEO industry educators Robin Nobles and John Alexander have announced that a new 2-Day Ultra-Advanced SEO Training Symposium to be conducted on April 5-6 in Orlando, Florida.
Director of the Search Engine Academy John Alexander said, "Many people who reach and advanced SEO certification levels enjoy continued learning at these Ultra Advanced training events." Alexander continued to explain, "These Ultra Advanced 2 Day events are not for the beginner who is just starting to learn, but these are conducted specifically for experienced search engine optimizers, at either an intermediate or advanced skill level. Robin and I enjoy teaching the regular hands-on SEO workshops along with our local community of Search Engine academy educators. But the reason we created this Ultra Advanced SEO training event was a natural next step in raising the bar on SEO skills excellence."
Alexander concluded by saying, "As you can imagine, in the SEO industry a person can never stop learning new skills and refining their understanding, since things do change regularly with the search engines."
There are several differences in the Ultra Advanced Symposium that appeal to business owners or Web developers who are in highly competitive markets. Attendees to the Ultra Advanced Symposium should have a good handle on the basic SEO skills. For anyone who has the basics down and who may have ever wanted to learn the actual top SEO strategies that SEO industry leaders themselves use, then this is where we bring in our guest SEO experts as presenters at the Symposium.
The focus is then on sharing a variety of highly technical strategies that are being used by top SEO industry leaders, in a revealing 2-day information sharing symposium, which includes remarkable demonstrations, a sharing of SEO expertise and "industry insider" knowledge, which is not part of the normal Basic Essentials or Advanced Search Engine Workshop agenda.
The Ultra Advanced Symposium is a meeting of select masters of the search engine marketing industry who agree to openly share their very best and hottest information for those who are already have completed at least the basic essentials training and already understand all of the basics. Participants discover top insider techniques and methods for maximizing your Web site's visibility and exposure with some of the most advanced white hat, search engine strategies clearly explained and demonstrated along with breakout information sharing sessions between individual participants.
The SEO industry experts that we invite tend not to be the general conference speakers, but we invite people that are well respected for their fields of SEO expertise. To see the speakers for the April 5-6 Ultra Advanced SEO Training Symposium, the schedule of topics and tuition rate, please visit:
http://www.searchengineworkshops.com/ultra-symposium.html
If you are a beginner, just getting started and you want to rapidly refine your SEO skills to give your Web site the maximum visibility in the minimum amount of time we recommend you learn the basic essentials first at any one of our live SEO Training Community Workshops here:
http://www.searchengineworkshops.com/workshop_dates.html
###