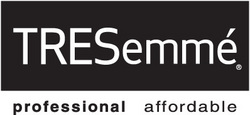 Melrose Park, IL (PRWEB) February 9, 2011
As the official haircare sponsor of Mercedes-Benz Fashion Week Fall 2011 (NY Fall 2011), TRESemmé will be introducing women to its latest product line, and providing even more insider access to all the show-stopping activity at Lincoln Center. The #1 styling brand in the US* will debut the new TRESemmé Climate Control Collection, forging a trend that lets women forget the forecast while maintaining salon-beautiful hair. Women worldwide will come along with TRESemmé Celebrity Stylist Jeanie Syfu for a sneak peek of all the action during fashion's hottest event through the brand's digital properties.
"With our new line, TRESemmé is once again a leader in innovation, and in giving women what they want – hair that looks great every day, in any climate," says Bob Gorman, US Marketing Director for TRESemmé. "We'll be sharing the looks straight from the runways, so every fashionista can step out with style, without worrying about Mother Nature."
The Climate Control Collection, which makes its debut at Lincoln Center, helps maintain style by creating a barrier between hair and the elements. Syfu and the TRESemmé Stylist Team will use the new line to complete the looks at the Tracy Reese, Charlotte Ronson and Cynthia Steffe shows, demonstrating runway hairstyles that won't wilt with the weather.
No matter where they call home, fans will now get a glimpse into the goings-on of Mercedes-Benz Fashion Week through the eyes of a stylist via the TRESemmé Facebook page. The brand will share Syfu's photo diary, including her consultations with Tracy Reese, Charlotte Ronson and Cynthia Steffe to discuss how TRESemmé will help bring the designers' visions to life.
TRESemmé will also have exclusive content available on TRESemme.com and the TRESemmé Facebook, YouTube and Twitter pages. From photos and videos to designer interviews, hair how-tos and celebrity sightings, fans can get an in on all the action and learn how to make the latest trends their own.
Those lucky enough to get to Lincoln Center will have a chance to flaunt their inner fashionista at TRESemmé Salon & Lounge. Here, women will get a preview of the Climate Control Collection as they get their hair dry-styled by the expert TRESemmé Stylist Team. Proving once again that real women can rule a runway, the brand will be capturing their hair-to-toe looks that will last regardless of the weather, courtesy of the brand's customized photo booth on the lower level. Thanks to Climate Control, come March, women will have access to beautiful hair every day, despite the weather forecast. Find the new TRESemmé collection at food, drug and mass market retailers nationwide.
The Fall 2011 season of Mercedes-Benz Fashion Week takes place from February 10th to 17th at Lincoln Center in New York City.
Follow and fan TRESemmé for a front row seat to Mercedes-Benz Fashion Week!
Twitter: @TRESemme
YouTube: YouTube.com/TRESemme
Facebook: Facebook.com/TRESemme
*Source: IRI F/D/M all outlet dollar sales 12 weeks ended 1/11/11.
###