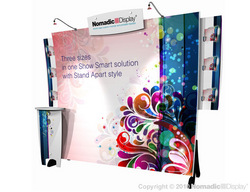 Marketers are seeking smarter solutions for their event programs. Display designs that bring brands to life while saving time and money are in greater demand today. HangTen is a Show Smart investment. - Pat Goeke, President and CEO of Nomadic Display
Springfield, VA (PRWEB) February 9, 2011
Nomadic Display, a leading producer of top-of-the-line custom modular and portable display solutions, has released its highly anticipated HangTen Series of DesignLine hybrid displays.
Nomadic's new HangTen display is a seamless, curved fabric wall that scales to serve multiple business opportunities. Affordably priced, one 8' HangTen system converts to a 4' graphic kiosk and to a table top model for ultimate display versatility. In addition, HangTen can grow with your business to expand into 20' hybrid display for even greater impact.
For maximum impact, HangTen displays support the latest state-of-the-art functional accessories including wide screen monitors, halogen or LED lights, product pedestals, shelves and slatwall racks for product display, counters and bold signage for added dimension.
Event marketers will appreciate the value of a 3-in-1 display design that sets-up swiftly to save on labor, is so portable it ships in one case to save on escalating shipping expenses. Plus delivery takes just 10 business days or less.
Additionally the HangTen frame is backed by an industry leading Lifetime Warranty so event marketers can be assured they will get the highest return on their investment.
Click here to learn more about Show Smart solutions with Stand Apart style
About Nomadic Display:
Businesses large and small as well as local, state and federal government agencies have entrusted Nomadic Display® with their event marketing programs for over 30 years. As one of the world's most experienced and best known companies in the exhibit industry, Nomadic is a leading producer of top-of-the-line custom modular and portable display solutions, graphics and trade show rentals, events and mobile presentations.
# # #