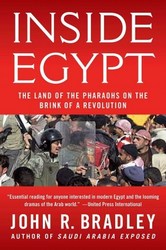 This dark and sober look at contemporary Egypt… offers a compelling explanation for the anger now being seen on the streets of Cairo.-- CHRISTIAN SCIENCE MONITOR
New York, NY (PRWEB) February 8, 2011
As Egyptian revolutionaries push on with their battle to topple the regime of President Hosni Mubarak, filling Liberation Square in Cairo with greater numbers than ever, a recent book that famously predicted the revolution has become the perfect primer for those seeking in-depth analysis of the most extraordinary popular uprising in modern Arab history.
"Inside Egypt: The Land of the Pharaohs on the Brink of the Revolution" (Palgrave Macmillan, 2009), a journalistic account of life inside the country written by British journalist John R. Bradley, clearly explains why Egypt is now in the midst of revolutionary upheaval. The book has chapters exploring the corruption, police brutality, and political repression the Egyptian people are now revolting against.
Bradley lived in Egypt for most of the past decade, avoiding other Westerners and instead living with poor Egyptians and speaking only Arabic. From this experience, he alone was convinced that revolution was about to happen, and his book caused a media firestorm on publication when it was banned by the Mubarak regime.
As the only Westerner to have predicted the revolution, Bradley is now much in demand. He has been interviewed by countless media outlets over the past few weeks, including the BBC and Sky News. This week his book was recommended as essential reading by, among other publications, the New Yorker and the Christian Science Monitor. Bradley's opinion pieces on the revolution have been providing readers with in-depth analysis in outlets as diverse as The Spectator, The Daily Mail, and The New York Post.
For more information about "Inside Egypt: The Land of the Pharaohs on the Brink of a Revolution," visit johnrbradley.wordpress.com.
###