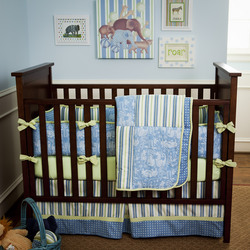 Douglasville, GA (PRWEB) February 9, 2011
Carousel Designs, a contemporary and trend-setting leader in the baby bedding industry for more than 22 years, debuts eight new crib bedding sets. Carousel Designs offers one of the broadest collections of quality baby bedding in the industry with more than 100 pre-designed crib bedding sets available in addition to custom baby bedding.
The new crib bedding sets feature fun, mod designs with owls and starlings; classic toile and paisley designs; gender neutral designs in unique color combinations and in 100 percent certified organic fabrics; and - for that special baby girl's room - two pink and taupe sets, one in an elegant and trendy leopard design, the other, a must-have for a nursery fit for a princess.
Following are highlights of each new bedding set:
Blue and Green Circus Toile
Featuring adorable circus animals depicted on a woven cotton toile design. The set's patchwork bumper and comforter are complimented by a stripes and dots fabric. Muted shades of blues and greens make decorating options for a nursery endless with this collection.
Starling
This sweet new bedding set features little starlings in shades of pink, red, blue and lemon-lime along with bold stripes and mini polka dots with a touch of black and white and light lime for an extra design pop!
Logan Black and Lime
Striking tones of black and white make this the perfect gender neutral bedding collection. With a unique color combination and bold stripes coupled with stunning damask stripe and blossom fabric, this set brings a contemporary flair that offers many decorating possibilities for the nursery.
Blue and Taupe Paisley
A classic paisley design in soft tones of spa blue and taupe offers a tranquil and relaxing look for any nursery. Blue and Taupe Paisley is an ideal nursery bedding choice for expectant parents not knowing whether to plan a nursery for a little boy or girl but wanting to get a head start on decorating.
Retro Owls
Adorable retro owls perched high on their branches bring a fun look for the nursery. This set, rich in textures with its accents of rich chocolate suede and tan minky chenille also features a "way too cool" chevron stripe.
Pink and Taupe Leopard
A wild, wonderful and elegant look for a girl's nursery. This distinctive set features satin ruffles and luxurious minky. The satin ruffled bumper is complimented by a peek-a-boo crib skirt that features Pink and Taupe Leopard twill topped with rich satin bows.
Pink and Taupe Damask
A perfect nursery décor choice fit for a princess or future ballerina. Soft and subtle shades of pink and taupe will appeal to the feminine side of every little girl. Carousel Designs' exclusive Pink and Taupe Damask is coupled with the luxurious feel of minky and satin and a touch of ruffle.
Organic Geometric
This collection features 100 percent certified organic cotton fabrics colored with low-impact dyes. The steel gray and lime geometric design offers a stylish organic gender neutral option for the nursery.
In addition to the debut of the new crib bedding sets, Carousel Designs recently launched their Nursery Designer® Version 3.0 interactive tool allowing for customers to experience a more accurate visualization of their nursery. Carousel Designs is the only baby bedding company that allows parents to design their own crib bedding, see it online, and choose other elements of the nursery to preview the room before making a purchase.
The Carousel Designs collection includes mini/portable crib, cradle, toddler, twin and full/queen bedding and coordinating nursery décor including lighting, furniture, rugs, musical mobiles, pillows, diaper stackers, wall art, draperies, rocking chair pads and valances.
From its start as a small family business in 1988, Carousel Designs has grown to become an award-winning national online retailer and trusted brand of premium baby bedding, twin bedding and home décor. Jonathan Hartley continues the family tradition of ownership as CEO with his business partner Allan Sicat, President. The two dads of young children are both graduates of the United States Military Academy in West Point, NY and are U.S. Army veterans. Hartley and Sicat take special pride that all Carousel Designs baby bedding products are proudly made in the USA.
Carousel Designs products can be purchased online at http://www.babybedding.com.
About Carousel Designs
Georgia-based Carousel Designs, a contemporary and trend setting leader in the baby bedding industry, was founded in 1988. For more than 22 years Carousel Designs has manufactured high quality baby bedding, toddler, twin and full/queen size bedding and nursery décor. Carousel Designs is the only baby bedding company that allows parents to design and create their own virtual nursery online with their Nursery Designer®, a unique, interactive design tool. The company also offers more than 100 pre-designed ready to ship crib bedding collections and more than 300 fabrics to choose from in a range of versatile styles. For more information visit http://www.babybedding.com.
###