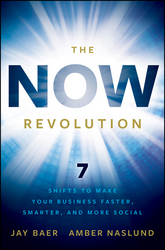 Jay Baer & Amber Naslund explain, Social media isn't a conversation; it's where the conversation takes place.
Hoboken, NJ (PRWEB) February 9, 2011
Social Media strategy gurus Jay Baer and Amber Naslund understand how to help companies prepare for real time business communication. Their new book, The NOW Revolution: 7 Shifts to Make Your Business Faster, Smarter and More Social (Wiley; 9780470923276; Hardcover; February 2011; $24.95) not only gives readers a detailed outline on how to react to the impact of real-time business through organizational structure and process, it includes Microsoft Tag application.
Throughout the book, readers can find electronic symbols. These symbols are gateways to supplemental material and examples, powered by Microsoft Tag technology. To use them, readers simply visit gettag.mobi to download the free Tag Reader on any smartphone. This new technology allows readers to scan the symbol using a phone camera. Immediately they are transported to additional book related information.
In The NOW Revolution, Jay Baer and Amber Naslund explain what it means to be social, "Social media isn't a conversation; it's where the conversation takes place. Companies need to focus first on how to "be" social, and then on how to "do" social."
Customer service used to be a letter in the mail and a waiting period of about 30 days. A reply within a month wasn't uncommon. Nowadays, if a business fails to react to a customer inquiry within 24 hours – their reputation could be in serious danger. The NOW Revolution includes detailed case studies and examples, purposefully drawn from small and medium-sized companies. For example, a review on the travel guide web site TripAdvisor.com from user ''Shawn3985789'' is an example of this new dynamic. Shawn apparently had a less-than-ideal experience with the Budget Host Saga Motel in Flagstaff, Arizona. His review reads:
"I think I can feel death creeping upon me as I write this. . . . It's SOOOOOO gross. Like something in a horror movie. I'm about to walk out to my car to get my own blankets because this bed is so gross I don't even want to imagine how many people are brought here to be murdered. DO NOT STAY HERE. My wife and I are gonna go get tested for HIV because of this bed. also theWi-Fi blows."
Business is moving at the speed of thought. Every customer is a potential reporter. In seconds, a single tweet from an influential individual could dramatically impact a company's reputation. In this real-time environment where customers demand a balance of attentiveness and responsiveness, it is up to companies to make serious changes internally by creating cultural and operational changes to become nimble and adaptive.
The NOW Revolution offers a 7-step blueprint that is supported by concise, real-world examples for transforming internal communication and processes in order to embrace and employ speed as a competitive advantage. The blueprint includes the following:

Corporate Culture: from ownership down, truly believe in the primacy of customers
Response-Ability: satisfy customer expectations for response time
Speed Skills: screen and identify employees with the necessary new type of skill set
Team Structure: make marketing the ligament that ties departments together to maximize the speed of information flow
Internal Communication: revamp the communications process so information moves from the point of incident to the point of dissemination instantly and accurately
Crisis Management: make preparations long before a social media crisis occurs because if that happens, you'll never need to move faster
Success Metrics: track ROI metrics that matter and report them in a way that your entire company will understand
The future of business is not in measured, considered responses and carefully planned initiatives. Business today is about near-instantaneous response. It's about doing the best that can be done with extremely limited information. Having the time and information required to make a considered business decision is a luxury - a luxury that's quickly facing extinction. Yet business hasn't adapted to this evolution and the time is now.
The NOW Revolution is pushing organizations to transform business, from the inside out. It impacts organizations culturally, operationally, and functionally. This book guides readers with the skills they need to harness the potential of this new communication era.
About the Authors:
Jay Baer (Bloomington, IN) is a world renowned social media strategy consultant. His blog, convinceandconvert.com, is consistently ranked among the top business blogs, and he speaks to tens of thousands of marketers annually at industry conferences and conventions. He is a senior advisor to ExactTarget, one of the world's largest SaaS companies. A digital marketing pioneer, Baer has founded five online companies since 1994 and since then has worked with over 700 brands.
Amber Naslund (Chicago, IL) is the Vice President of Social Strategy for Radian6, a social media listening and engagement platform. Amber writes an award-winning blog at BrassTackThinking.com, and frequently speaks on the topics of social media, communication, and community strategy for business.
For more information, visit http://www.convinceandconvert.com and http://www.brasstackthinking.com
To schedule an interview or receive a review copy, contact: Heather Condon, WILEY hcondon(at)wiley(dot)com - 201-748-6017
# # #