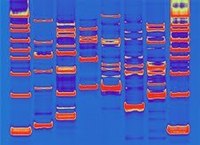 Carlsbad, CA (PRWEB) February 15, 2011
Yonder Biology has expanded its DNA art business into a new facility that will incorporate its DNA art gallery, offices and laboratory operations. Yonder's expansion is due in large part to increases in the volume of DNA portraits the company is producing. Yonder has entered into agreements with partners in Europe and Asia to provide contract services to create DNA portraits for an increasingly global customer base. In addition to adding capacity to its DNA art business, Yonder has broadened its capabilities to provide genomic services to the biotech community.
"The new laboratory and gallery space will provide the extra capacity we need for our DNA art business" says Sean Raude, Yonder's Chief Scientific Officer. "Among Yonder's new services are DNA isolation from buccal swabs, saliva and forensic (archived) specimens."
Yonder's new DNA art gallery can be viewed by appointment, Tuesday through Saturday. The gallery exhibits the various sizes, mediums and styles of Yonder's DNA art. To schedule an appointment to visit the company's DNA art gallery call 760-583-4951.
How to Create Your DNA Art Portrait:
Customers visit Yonder Biology's website to select the style, color, and size of their DNA portrait. Next, customers select from a variety of options including adding their signature or receiving a digital DNA image. After checkout, Yonder mails a DNA collection kit that consists of a sterile cotton swab and a self addressed, stamped envelope. The swab is gently rubbed on the inside of the cheek and returned in the provided envelope. DNA samples are processed in Yonder's secure, state-of-the-art laboratory in the USA. After lab processing, the digital images are transferred to a computer where the customer's preferences (colors, photo overlay) are implemented. A digital proof is provided with all orders and allow customers to make any last minute changes. Upon customer approval, the DNA art portrait is printed using high quality digital printing materials, mounted accordingly, and shipped.
About Yonder Biology
Yonder LLC, a DNA Art company based in Carlsbad, California, blends pop culture and science to create custom art from DNA. The company's products include personalized DNA portraits, Doggie DNA art portraits, personalized gifts and more. Each custom DNA portrait displays a unique banding pattern to reveal a new form of individual expression. For more information, visit http://www.yonderbiology.com.
CONTACT: Yonder LLC
Media Relations, 760-583-4951
SOURCE: Yonder, LLC.
# # #