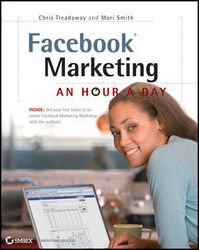 By tapping into the online community to contribute to the second edition, the authors are illustrating the type of creativity that marketers can utilize on Facebook and other social media platforms. -Sybex Publisher Neil Edde
Hoboken, NJ (PRWEB) February 9, 2011
Facebook marketing experts Chris Treadaway and Mari Smith will include a crowd-sourced chapter for the upcoming second edition of their best-selling Facebook Marketing: An Hour a Day book. The online marketing community and fans of the first edition can contribute questions by including "@FacebookMktg" in a Tweet or by posting directly to the Facebook Page for the book at http://www.facebook.com/marketingbook.
"We received great feedback from the community since the book launched in May," said Treadaway. "We thought it would be a great idea to open up an entire chapter in the next edition of the book to everyday marketers who are increasingly using Facebook to reach and interact with customers."
Treadaway and Smith will launch the initiative during a "flash chat" event on February 11 at 11am Pacific Standard Time (UTC -8:00) on the book's Facebook Page at http://www.facebook.com/marketingbook. The crowd-sourced chapter will feature the 10 best questions submitted by the community, which the authors will answer in detail.
"Facebook is absolutely the next generation internet; there is a vast amount of potential revenue on the table for businesses today if they could only fully integrate the breadth and depth of all that Facebook offers," said Smith. "Chris and I want to tap even deeper into the challenges, needs and desires of the marketplace so we can provide our suggested solutions and make the second edition of our book even better than the first!"
The best-selling first edition of Facebook Marketing: An Hour a Day shows readers how to develop, implement, measure, and optimize a winning Facebook marketing campaign. The second edition is expected in late 2011.
"By tapping into the online community to contribute to the second edition, the authors are illustrating the type of creativity that marketers can utilize on Facebook and other social media platforms," said Sybex Publisher Neil Edde. "It's the type of virtuous circle that benefits businesses and customers alike."
About the Authors:
Chris Treadaway is an entrepreneur and Founder and CEO of Notice Technologies, a social commerce middleware company that has worked with major corporations such as Wiley Publishing, Microsoft, Journal Communications, A.H. Belo, and Demand Media. Chris is a frequent speaker and has been published in major publications such as Forbes, The MIT Technology Review, Mashable, and ReadWriteWeb. Mari Smith is a passionate Relationship Marketing Specialist and one of the world's foremost experts on how to use Facebook for results-driven growth. She travels the world to provide social media keynotes and in-depth training, and she specializes in helping business owners, authors, and celebrity clients increase their profits with full, strategic social media integration. Fast Company dubbed Mari, "the Pied Piper of the Online World" and ClickZ named Mari as one of 20 Social Media All-Stars. Her new book on the topic of relationship marketing is due out in August 2011. Mari writes a popular blog at http://marismith.com and manages a vibrant Facebook Page at http://facebook.com/marismith.
About Sybex:
Sybex has been a leading publisher for the global Information technology community for nearly 30 years. Known for its high quality publications that are translated into more than 20 languages, Sybex published about 100 new titles a year and has an impressive backlist of over 450 titles in the graphics, digital photography, operating systems, programming, and internet marketing categories. Sybex, enjoys a very strong presence in the areas of IT and Business certifications and has close relationships with a number of leading technology companies, including Alias, Microsoft, and Juniper. For more information, visit sybex.com. Sybex is an imprint of Wiley.
###