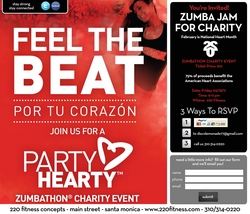 Feel The Beat
Santa Monica, CA (PRWEB) February 9, 2011
February is American Heart Month and communities all over the nation are coming together to raise money for the American Heart Association. Deirdra G. Martinez, MPH, and Licensed Zumba Instructor, has teamed up with the American Heart Association Los Angeles Chapter and 220 Fitness Concepts in Santa Monica to offer the "Party Hearty" event on February 18th from 9pm-11pm.
Martinez sees this as a perfect opportunity to promote Zumba and to educate the community about Heart disease. "We expect 50 people to come and dance the night away while supporting a great cause," Martinez says.
Heart disease survivor, Jacqueline Alikhaani, will kick off the event with a testimonial and Martinez will lead the class. 220 Fitness Concepts, located at 3002 Main St., Santa Monica, is sponsoring the location.
One of the main risk factors for Heart disease is lack of physical activity. Many women who have traditionally avoided the gym have fallen in love with Zumba because of the music and dance. Zumba is one of the hottest workouts and one of the best cardiovascular workouts. Participants can typically burn 500-700 calories per class.
For more information please contact Deirdra Martinez directly at 310-926-5561.
###