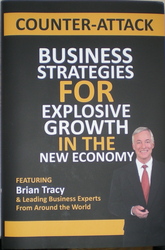 "With all of the advancements, technology still won't close sales for you, you need a skill set, top salespeople don't just wing it!"
Long Beach, NY (PRWEB) February 9, 2011
Rob Liano, author and nationally renowned sales coach, recently joined a select group of America's leading entrepreneurs and businesspeople to collaborate and co-write the business and marketing book titled, "Counter-Attack: Business Strategies for Explosive Growth in the New Economy." The book also featured noted business development expert, best-selling author and speaker, Brian Tracy. Celebrity Press™, founded by JW Dicks, Esq. and Nick Nanton, Esq, is a business book publisher that publishes books from thought leaders around the world.
With over 20 years in sales, Rob Liano, the Rock Star Sales Trainer ™, has always moved to the beat of his own drum, literally, and his creativity and expertise has catapulted him from rookie to top producer, and onto becoming a renowned, national sales trainer & trusted advisor.
The book, "Counter-Attack: Business Strategies for Explosive Growth in the New Economy" was released on Thursday, January 27, 2011. The book features business lessons that business owners can use to fight against declining revenues and learn the secrets of success in the new economy. On the day of release, Counter Attack reached best-seller status in two Amazon.com categories: Marketing and Direct Marketing. Rob Liano authored a chapter in the book titled, "The Service Station."
From CelebrityPress:
With the economic upheaval we have all experienced in the new economy, it's hard not to feel that the way we do business is under attack. Traditions and the status quo have all been replaced with "New Normals," making it more and more difficult to find a clear-cut path to success. In this refreshingly authentic book, thirty-five business leaders from around the world with very diverse backgrounds have teamed up to share what's working now-so you can stop wondering and start profiting.
To order a copy of the book, go to http://www.amazon.com/Counter-Attack-Business-Strategies-Explosive-Economy/dp/0982908342/ref=sr_1_1?ie=UTF8&s=books&qid=1296240376&sr=8-1
After such a successful release, Rob Liano will be inducted into The National Academy of Best-Selling Authors™, an organization that honors authors from many of the leading independent best seller lists.
To learn more about Rob Liano, please visit http://www.rockstarsalestraining.com
To learn more about CelebrityPress™, please visit http://www.CelebrityPressPublishing.com
About Rob Liano:
Rob Liano, the Rock Star Sales Trainer ™ is a published author and nationally renowned sales coach whose most recent accomplishments have been in the insurance field. Rob led two agencies to Top Producer status within 45 days, he was the featured speaker on the Success and Marketing Tour where his sessions Objection Overruled and One Call Closing brought the house down. He also launched his own insurance agency in the midst of the recession and became a multi million-dollar producer within just a few months.
Rob has forged new techniques to create an innovative and non-failing system of selling. His effectiveness is not a secret and he wishes to share it with the world, whether on stage or a single phone call. Once you realize that in this technological era of instant gratification, many old school techniques just don't cut it any more, you'll realize that Rob Liano's modern, cutting edge, easy to implement sales insights will simplify your sales life and take your career to the next level!
Contact Rob Liano today to bring Rock Star Sales Training to a theater near you and start to enjoy the accolades that you deserve, because you have nothing to lose . . . except sales.
And don't forget to get your free copy of Rob's "7 Deadly Sales Sins" by visiting http://www.rockstarsalestraining.com or calling 1.888.379.8315 and Rob will speak to you personally.
###