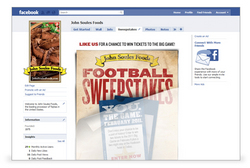 While many of our contests run directly on the WizeHive platform, being able to integrate with Facebook increases contest exposure for many of our customers
Conshohocken, PA (PRWEB) February 10, 2011
The United States largest fajita provider, John Soules Foods, chose WizeHive's Contest Software to power its online Football Sweepstakes. Participants entered their information on the John Soules Foods Facebook page in hopes to win two tickets to Super Bowl XLV with two nights stay at the Radison Hotel in central Dallas- a $1,200.00 value.
WizeHive's Online Contest Software then collected the participant's information through the Facebook page. Winners were selected at random by WizeHive's contest software system, using a feature that allows winners to be generated at random based on the information fed into WizeHive.
This was one of the more recent online contests built on top of WizeHive's Online Contest Software platform. Earlier this year, WizeHive's photo contest software was used by the Chicago Architecture Foundation and by istockphoto.
WizeHive was selected because the contest needed to be deployed quickly, needed a high degree of customization, and required Facebook integration. WizeHive VP of sales Jeff Thomas stated: "While many of our contests run directly on the WizeHive platform, being able to integrate with Facebook increases contest exposure for many of our customers."
The sweepstakes began on December 12th, 2010 and ran through January 17th, 2011. The sweepstakes generated over 1,000 votes and declared Diana Raphael and her husband winners of the John Soules Football Sweepstakes.
More information about WizeHive's Contest Software can be found at http://www.wizehive.com/contest
###