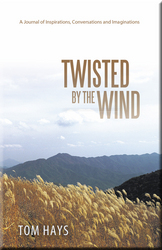 "The readers will find themselves going back into their own lives and seeing the similarities, remembering the events in their past that molded them into who they are."
Scottsdale, AZ (PRWEB) February 10, 2011
Tom Hays could be right. Maybe we are all Twisted by the Wind that blew on us in our life. The winds that blew gently on us made us happy and confident, and the sometimes gale force winds tested our strength and courage. The way we withstood those winds and handled the bumps in life's road made us who we are. Tom's new book is filled with examples and timely advice.
Tom Hays, author of Twisted by the Wind was born and reared in Oklahoma, and his rural, small town up-bringing shines through in his writing. "I set out to write some stories of people I remembered from living in Enid and rural Oklahoma, and as I started writing them, each one seemed to wind up being an example of how life teaches us lessons along the way if we just pay attention."
"It seemed natural to summarize those lessons as 'words of wisdom' in appropriate places between story chapters," said Hays who left Oklahoma some years ago for Denver, then Scottsdale, Arizona. "The desert life gave me new perspective and a renewed sense of self discovery that led to a series of artistic efforts that have been very personally rewarding. It also gave me time to reflect."
Nearly ten years ago, Tom began collecting and emailing words of wisdom, inspirational and motivational quotations to friends and then offered the free daily emails to the visitors of his web sites. These "Pearl of the Day™" quotations now go daily to hundreds of subscribers and reach thousands of viewers on various websites where they are featured. The sayings of many famous and infamous people have been quoted, including more than a few written by Tom himself. Some of those "Pearls" have been included in the book, along with lyrics from some of the songs he has written or co-written, most during his two year "sabbatical" to Nashville to write and produce music full time.
A move to Napa Valley followed, and the bucolic atmosphere of the small town wine country re-awakened his memories of his earlier rural upbringing. After nine years in California, Tom and his wife returned to the Scottsdale desert and he immediately began working on his book. The results were published in December 2010 by WestBow Press, a Thomas Nelson Publishing Company subsidiary.
Humor plays a sizable role in Tom's writings, and his book reflects his dry, introspective take on the peculiarities of the human condition. Twisted by the Wind is peppered with wit, eliciting everything from smiles to groans to outright belly laughs. "I wanted the book to be an entertaining, fun read with some underlying meaningful messages of a more serious nature," explains Hays.
"I'm hoping the readers will find thoughts to enjoy on several levels, but more importantly, I think they will find themselves going back into their own lives and seeing the similarities, remembering the events in their past that molded them into who they are."
While touring the country attending book signings and events, Tom Hays is working on his next book. Hays is beginning his tour this month in Arizona then on to California, Oklahoma and points East. To learn more about this book and the tour schedule visit http://www.twistedbythewind.com.
###