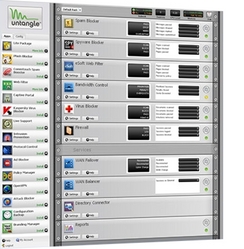 Put simply, Untangle's Web Cache saves bandwidth, which saves money.
San Mateo, CA (PRWEB) February 9, 2011
Untangle, Inc., a network software company, today announced the release of Untangle® 8.1, the latest version of its award-winning multi-functional firewall software. The new version includes a new application, Web Cache, which saves organizations money by lowering bandwidth usage while speeding up Internet browsing speeds for users.
Web Cache stores copies of online files passing through it; subsequent requests for the same files may be satisfied from the cache if certain conditions are met rather than being downloaded each time. Web caching can help organizations increase responsiveness of web applications and save bandwidth costs. Files that are repetitively downloaded by many users across an organization's network cause an unnecessary drain on available network and bandwidth capacity. With Untangle's Web Cache, those same files are stored locally on Untangle after the initial download and delivered quickly to subsequent users. Web Cache supports the caching of web content and software updates, including Microsoft® Updates, significantly lowering the volume of repeat traffic going to the Internet.
"Schools and offices are constantly grappling with having to provide more and more bandwidth capacity. With Web Cache, our customers are now able to reduce the waste of bandwidth that these multiple downloads represent: Untangle simply stores frequently-requested items locally and serves them up quickly to internal users," said Mark Floisand, COO, Untangle. "With faster response times for users, and less bandwidth wastage for network managers, everyone's happy."
Product Webinar:
Dirk Morris, CTO and Co-Founder of Untangle, will demonstrate Untangle 8.1 at 10:00am. Pacific Standard Time (PST) on Tuesday February 15, 2010.
To register for the Webinar go to http://bit.ly/gtU1Sw.
Availability and Pricing

About Untangle
Untangle, a network software company, provides a new breed of multi-function firewall and Internet management applications that are optimized for the unique needs of smaller organizations. With a free multi-function firewall at its core and a suite of complementary Internet management applications, Untangle's superior solutions are available at the Industry's lowest cost and are easy-to-deploy and manage. Untangle's proven network software solutions are installed in 30,000 organizations, protecting more than 1.7 million people and their computers. The company's innovative open source approach takes the cost out of Internet management. With its try-before-you-buy approach, Untangle enables organizations to take control of their network within minutes and at no risk. Untangle is located in San Mateo, California.
Untangle® is a registered mark of Untangle, Inc.
# # #