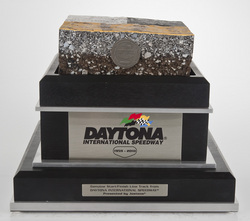 Minneapolis, MN (PRWEB) February 9, 2011
To commemorate the 53rd DAYTONA 500®, Jostens, in conjunction with Daytona International Speedway®, announced a DAYTONA® Commemorative Track Collection Giveaway featuring a one-of-a-kind piece of the historic start/finish line from Daytona International Speedway. The Giveaway also features other unique products from the limited edition Collection. All fans, 13 years of age and older, can enter the Giveaway at the Jostens trailer, located in the Midway Display area outside Turn 4 at Daytona International Speedway beginning February 11th and running through the 2011 DAYTONA 500.
The DAYTONA Commemorative Track Collection Giveaway features 16 prizes from the Collection, plus the one-of-a-kind historic start/finish line collectible, and is free to enter with no purchase necessary. Giveaway prizes include:

(1) DAYTONA Genuine Start/Finish Line Track Piece
(1) DATYONA Genuine Track Piece
(5) DAYTONA Track Collection Photo Books
(10) DAYTONA Genuine Track Medallions
Entry forms will be available at the Jostens trailer on the DAYTONA Midway with winners being selected at random on or around February 25, 2011. Complete Giveaway rules will be available at the Jostens Midway trailer.
The DAYTONA Commemorative Track Collection from Jostens gives race fans and collectors the rare opportunity to own a piece of America's rich racing history following the historic 2010 repaving of Daytona International Speedway. Fans can view and purchase the Collection at the Jostens Midway trailer leading up to and during the 2011 DAYTONA 500 or by visiting http://www.jostens.com/DAYTONA.
From the first race in 1959 to the last 2010 race before the repave, Daytona International Speedway holds more than 50 years of unforgettable racing history. Now enthusiasts and fans can hold on to every legendary Daytona story with a piece of genuine track where racing history happened. The Commemorative Track Collection includes unique one-of-a-kind genuine track pieces. Quantities of these commemorative pieces are extremely limited and available only while supplies last.
Eighteen unique items are available now with more collectibles to be added in the coming weeks. Items available now at http://www.jostens.com/daytona include:
Genuine Daytona Track Medallion - With the authentication seal, the medallion is approximately 1¾" round and comes in a protective clear holder.
Genuine Track Piece of Legendary #3 - The asphalt number is approximately 4"x 5" featuring the official seal of authentication highlighted on a black base.
Framed Collage with Genuine Track - The collector's DAYTONA® Speedway collage, a genuine piece of track and authentication seal create a stunning ensemble in a beautiful black frame 16" x 16" with multiple mats.
Limited Edition Genuine Front Stretch Track Surface - Only 1,959 one-of-a-kind pieces of top-edge surface asphalt are available from the Front stretch. Each unique top-edge surface piece is approximately 6" x 4" x 1½" displayed on a stunning aluminum and black base.
Daytona Commemorative Track Collection Photo Book – With a genuine Daytona Track Surface Medallion embedded in the cover, this collectible photo book captures Daytona's rich history through official Daytona images and iconic race stories. Plus fans can customize online by adding their own photos and stories of the track.
While there is a limited amount of actual track available, Jostens is producing commemorative products suitable for every Daytona fan and every budget. For a complete listing of genuine track pieces, visit http://www.jostens.com/daytona.
Daytona International Speedway, which was built in the late 1950s, has been resurfaced only once previously - in 1978. The Daytona International Speedway's entire 2.5-mile tri-oval was repaved in time for this year's DAYTONA 500, including the skid pads, apron and pit road.
Lane Construction, which repaved other ISC race tracks including Talladega Superspeedway, Homestead-Miami Speedway, Richmond International Raceway and Darlington Raceway, removed the historic track and was contracted to repave Daytona International Speedway.
Jostens supplies trophies and championship rings for the NASCAR-sanctioned series and is the exclusive designer/provider of NASCAR championship rings. Jostens presented Jamie McMurray with a one-of-a-kind Champions Ring following his thrilling triumph in the 2010 DAYTONA 500®. Jostens has created 28 of the 44 NFL Super Bowl rings, including the ring for the Green Bay Packers Super Bowl I victory. Jostens has also designed and produced NBA Finals, Stanley Cup and World Series championship rings, as well as rings for collegiate sports championships.
About Jostens
Minneapolis-based Jostens is a provider of products, programs and services that help people tell their stories, celebrate important traditions and recognize achievements. The company's products include school yearbooks and other memory book products, scholastic products such as class rings and graduation products, and products for athletic champions and their fans. Jostens is a subsidiary of Visant Corporation, a marketing and publishing services enterprise servicing the school affinity, direct marketing, fragrance and cosmetics sampling and educational and trade publishing segments.
# # #