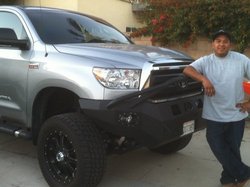 Compton, CA (PRWEB) February 9, 2011
Congratulations to Arlen Nunez, the January 2011 winner of the 4 Wheel Parts Facebook Dream Upgrade Contest. 4 Wheels Parts, America's largest distributor of off-road parts for trucks, Jeeps, and SUVs, recently asked their Facebook fans to post pictures of their vehicles, as well as their number one upgrade wish and why they deserve to win. Arlen Nunez was randomly chosen as the final of the three contest winners and she received a $500 promo card that will be used towards a dream upgrade for her husband's truck.
Beginning on the 15th of November, 2010 and continuing for 3 months, 4 Wheels Parts randomly picked and notified the Dream Upgrade Contest winners. Then, the lucky winners were asked to write a few paragraphs for the 4 Wheel Parts blog describing their vehicles, the upgrades, what they would do with the $500 promo card, and how it will improve their vehicles/daily lives. Since the contest started last October, over 12,000 Facebook users have friended 4 Wheel Parts.
Arlen Nunez is the last of the three winners of the $500 promo card Dream Upgrade Contest on Facebook. She won the contest on behalf of her husband, a family man who works hard and drives harder when off-roading. Mr. Nunez, a self-proclaimed truck lover, enjoys the great feeling that comes with navigating the challenging obstacles so often found when off-roading. He has already upgraded his V8 Toyota Tundra with a Pro Comp 6" lift kit, 20" XD Hoss rims with 33" Nitto tires, and Fab Fours front and rear bumpers. Mr. Nunez already knows what the $500 promo card is going to: a set of Pro Comp coil overs.
When asked about the 4 Wheel Parts store and website, Mr. Nunez said, "I think that both the store and the website are great places for the off-road enthusiast and offer great help and service when it comes to making a decision."
Later in the month of February, 4 Wheels Parts will host its first Truck & Jeep Fest event of 2011 at the San Mateo Expo Center in San Mateo, CA. This event will be followed by 8 more across the nation this year, including Hawaii. Visitors of Jeep & Truck Fest 2011 can experience over 100,000 square feet of custom trucks and Jeeps on exhibit. Manufacturers will be on-site with product demonstrations and over $100,000 in aftermarket off road products. Visitors can expect to find some of the lowest prices of the year, special hourly promotional pricing, and installations up to 50% off. There will also be hourly giveaways and several visitors will win free prizes.
Truck & Jeep Fest 2011 Events:
Feb 26-27 San Mateo, CA San Mateo Expo Center
Mar 12-13 Oahu, HI Blaisdell Center
Apr 9-10 Puyallup, WA Puyallup Fair & Events Center
May 14-15 Dallas, TX Dallas Market Hall
May 21-22 Houston, TX Reliant Center
Jun 4-5 Atlanta, GA Atlanta Cobb Galleria
Jun 18-19 Ontario, CA Ontario Convention Center
Jul 9-10 Denver, CO Denver Merchandise Mart
Aug 20-21 Orlando, FL Orlando Orange County Center
In addition to factory direct pricing and free prizes provided at Truck & Jeep Fest events across the nation, 4 Wheel Parts enjoys giving back to customers online at 4WheelParts.com and through social media sites such as YouTube, Facebook, Twitter, and blogs such as 4WheelPartsBlog.com and Team4WheelParts.com. The 4 Wheel Parts YouTube Channel is a great destination to see Truck & Jeep Fest event coverage, thorough product reviews and how-to installation videos.
About 4 Wheel Parts: 4 Wheel Parts is celebrating 50 years as the leading truck & Jeep accessory superstore. 4 Wheel Parts is America's largest distributor of off-road parts for trucks, Jeeps, and SUVs, including: lift kits, tonneau covers, and fender flares. Take advantage of these great opportunities now with a visit to http://www.4WheelParts.com.
###