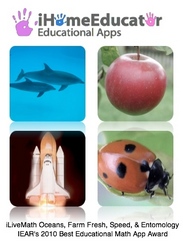 It is my mission to find appropriate applications that can be implemented to teach, reinforce and guide those struggling learners. I believe I have found it in iHomeEducator, Inc.
Sacramento, California (PRWEB) February 10, 2011
iHomeEducator®, Inc. is pleased to announce that the IEAR Community has selected apps from the iLiveMath multi-media word problem series for the inaugural "2010 Best Educational App Awards". IEAR is a grassroots community focused on taking a closer look at the educational value of educational apps.
Each iLiveMath supplemental cross-curricular app is designed specifically around a theme. Each theme uses engaging science-based photos and video incentives combined with millions of randomly generated math word problems to engage students in building confidence with reading fluency and solving word problems that teach addition, subtraction, multiplication, division, rate, time, geometry, mean, median, mode, percents, and more.
In addition iLiveGrammar was nominated for Best Language Arts App and builds confidence in reviewing how nouns, verbs, adjectives, adverbs, conjunctions, and prepositions are used in sentences.
One of the key differentiators of the iLiveGrammar and iLiveMath apps is the automated grading feature. Teachers and parents use auto-generated email and blogs to keep track of the student's progress.  Blogged examples of recorded math and grammar tests show randomly compiled word problem tests that capture the student's correct, incorrect answers, scores, and answer key.
"It is my hope that in the coming months, that a team of teachers and I will write a grant with the intent of getting iPads in our school. It is my mission to find appropriate applications that can be implemented to teach, reinforce and guide those struggling learners. I believe I have found it in iHomeEducator. I have to iLove this application and intend to share it with my colleagues." -- Andrea Gardner, applicable2u, iLiveGrammar Winter Review, Massachusetts Elementary and Middle Schools.
"We bought iLiveMath Animals of Africa [Editor's Pick of the Week] because my daughter adores mammals and I thought that this would be a great way to turn math into a 'delight-directed study'.  Guess what?  It worked!  This math motivates her!" -- Terri Johnson, home educator of six, founder of Apps-school.com.
"iHomeEducator, Inc. is now incorporated to further design, develop, and publish quality content with our education partners. We will be looking ahead to 2011 with the launch of several new apps to round out the educational needs of parents and teachers." -- Arlene Lee, California Credentialed Teacher, home educator of three, CEO and co-founder of iHomeEducator®, Inc.
Most all of the educational apps for the iPhone and iPod Touch run as universal apps on the iPad. Also VGA adapter support is available to share the word problem and photo on an LCD projector for classroom collaboration while the answer and controls remain on the iPad for the teacher.
iHomeEducator®, Inc. is a family run designer, developer, and publisher of iPad, iPod Touch, and iPhone Apps for education. Their applications provide a means of personalized learning and collaboration between students from kindergarten through middle school. iHomeEducator®, Inc. was founded in 2009 by a credentialed California State Board of Education mother and computer programming father actively home educating three children. They strive to help children build confidence in math, grammar, spelling concepts combined with engaging social studies, geography, science, history, and literature themes. Their goal is to provide cross-curricular supplemental apps for educators. iHomeEducator®, Inc. is a member of Moms with Apps. Moms with Apps is a group of individual, independent, family-friendly developers.
Join our Facebook for upcoming announcements and promotions.
# # #