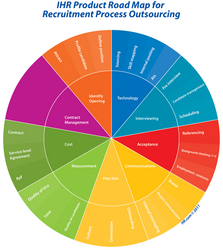 With the global economy in uncertainty and companies needing to control costs, yet still be ready to quickly meet demand to hire the best talent, outsourcing your recruitment might be the most efficient and scalable option for many HR Departments
(PRWEB) February 10, 2011
HR.com, the largest social community dedicated to human resource professionals, with 194,000 members, is proud to announce their Advisory Board for the Institute for Human Resources – Recruitment Process Outsourcing Certification Program, launching on February 14th and 15th, 2011.
The ultimate goal of the Recruitment Process Outsourcing program is to provide certification and accreditation to industry professionals who are interested in advancing their career, obtaining deep domain expertise, valuable hands-on experience and knowledge that will enable them to make measurable improvements in their workplaces with respect to recruitment and managing RPO service providers.
Recruitment Process Outsourcing (RPO) is an outsourcing arrangement whereby an external provider takes over part or all of the recruitment functionalities of an organization. The RPO provider assumes responsibility over the hiring process, from job profiling through onboarding, as well as the resources, methodologies and reporting used. With effective implementation, RPO can reduce a company's time to hire and associated costs, increase the quality of candidate pool and ensure regulatory compliance.
IHR's certification and accreditation process is developed through an independent Advisory Board composed of industry experts with access to the latest technology, best practices and thought leaders in their respective spaces.
Gary Bragar, HR Outsourcing Research Director, Nelson Hall, says, "With the global economy in uncertainty and companies needing to control costs, yet still be ready to quickly meet demand to hire the best talent, outsourcing your recruitment might be the most efficient and scalable option for many HR Departments, both domestic and global. "
Recruitment Process Outsourcing (RPO) has gained significant traction among the Fortune 500 companies and is seeing increased demand by organizations of all sizes. With HR.com's IHR dedication to the RPO domain, HR.com will educate thousands of HR Professionals that are considering all options for recruiting in the future. Course participation is free and certification (testing) costs $399 after 40 hours of courses have been taken.
The Advisory Board is comprised of the following professionals:
Chair: Gary Bragar - Research Director HRO, Nelson Hall
Facilitator: David Whitmarsh - HR.com
Industry Representatives:
Mary Claire Ryan – Talent Acquisition Subject Matter Expert, InTalent Consulting
Josh Sorkin – Senior Vice President, Hudson
Terry Terhark – Chief Executive Officer, The RightThing
Zachary Misko – Global Director, Kelly Outsourcing and Consulting Group
Nick Tubach – President and CEO, Q4B
Bonnie Tichman- CEO Tichman Consulting
The Advisory Board is responsible for guiding the design of the curriculum, and ensuring that the material is impactful and relevant in today's business conditions.
IHR is currently covering 18 key HR verticals ranging from Contract Workforce and Talent Exchanges, Recruitment Process Outsourcing, Quality of Hire, Integrated Talent Management to Employee Wellness. Each program provides educational resources, conferences, and accredited certification courses for a 12-month period.
Education, training and certification credits will be available with authorized partners as well as with HR.com educational webcasts, live events and award-winning virtual events.
You may register here for the upcoming Recruitment Process Outsourcing Certification Program.
About HR.com:
HR.com is in business to help build great companies by connecting them to the knowledge and resources they need to effectively manage the people side of business. As the largest social network and online community of HR executives, HR.com provides thousands of worldwide members with easy access to shared knowledge on best practices, trends, and industry news in order to help them develop their most important asset – their people.
About The Institute for Human Resources:
The Institute is a division of HR.com that is responsible for providing top tier education, access to industry experts and practical experiences via certification and accreditation programs for industry professionals committed to developing their career and implementing best practices at their respective organizations.
For more information contact:
Debbie McGrath, CEO, HR.com
1-877-472-6648 ext. 104
dmcgrath(at)hr(dot)com
HR.com
David Whitmarsh, Facilitator for the Institute for Human Resources – Recruitment Process Outsourcing program
1-877 472 6648 ext. 122
dwhitmarsh(at)hr(dot)com
HR.com
###