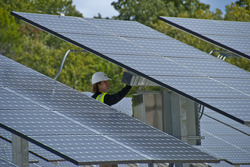 Burlington, VT (PRWEB) February 10, 2011
Draker Labs has been selected by Johnson Controls, a global leader in delivering products, services and solutions that increase energy efficiency, to provide monitoring services for the Milwaukee Area Technical College's (MATC) Photovoltaic Educational Laboratory. The solar project utilizes Draker's turnkey monitoring solution that is comprised of hardware to collect environmental and performance data, a web interface for analysis and reporting, and field services to assist in the installation and commissioning of the solar systems.
The 540kW project is situated on the Milwaukee River and features eight different configurations of solar panels from four different manufacturers. The facility serves as a training center for technicians, designers, electricians, and other professionals in the fields of renewable energy. Energy produced at the site is being used to operate the Milwaukee Public Television transmitter, which is co-located at the site. This is the first public television transmitter in the country to transition to being neutral to the energy grid.
About Johnson Controls Building Efficiency
Johnson Controls delivers products, services and solutions that increase energy efficiency and lower operating costs in buildings for more than one million customers. Operating from 500 branch offices in 148 countries, we are a leading provider of equipment, controls and services for heating, ventilating, air-conditioning, refrigeration and security systems. We have been involved in more than 500 renewable energy projects including solar, wind and geothermal technologies. Our solutions have reduced carbon dioxide emissions by 13.6 million metric tons and generated savings of $7.5 billion since 2000. Many of the world's largest companies rely on us to manage 1.5 billion square feet of their commercial real estate.
http://www.johnsoncontrols.com/
About Draker Laboratories
Draker Laboratories provides highly accurate and reliable monitoring solutions that help owners and operators of commercial-scale PV systems maximize the efficiency and profitability of their solar assets. As a supplier of complete, end-to-end monitoring solutions, Draker provides turnkey systems that combine proven field instrumentation with an intuitive Web-based data management system and unmatched customer support.
# # #