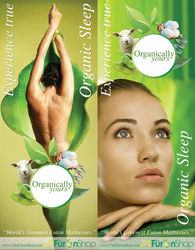 Chemical-Free Organic Mattresses, Natural Bedrooms and Organic Furniture for your home because YOU wanted & deserve it!
San Francisco, CA (PRWEB) February 11, 2011
The Futon Shop, America's Largest Futon Sofa bed retailer, announces that it has surpassed sales to 2 million customers in the United States purchasing organic mattress and green sofa bed from there web site and retail stores. The Futon Shop has 11 brick and mortar showrooms as well as a robust on line e-commerce web site offering green baby organic mattresses, organic futon sofa beds and organic mattresses. This achievement was accomplished as consumers concerns with exposure to harmful chemicals in their homes and every day environment. Consumers now demand chemically free furniture, bedding and sofas to enhance their families health and well being.
"Offering one of the largest selections of organic and green sofa beds and mattresses has been an important factor in the continued success of TheFutonShop.com and delivering the most comfortable and eco-friendly furniture and mattresses, futon sofa beds and bedding in the world. ." says Suzanne Diamond, President and CEO of The Futon Shop. With so many green and organic furniture stores, a strong online presence and now hundreds of licensed resellers across the country offering these organic and green mattresses. The Futon Shop can finally offer everyone in America a healthy and sustainable organic furniture and bedding solution. An American Company, The Futon Shop main headquarter, manufacturing plant and distribution center in the heart San Francisco, Ca. where we offer the highest fair trade standards in the country and maintain leadership in organic and green furniture. American's now demand innovative and we have a higher concern for the environment at home in worldwide then ever before. The Futon Shop purchases American organic cotton for their sofa beds and mattresses as well as the wool that is used in all futons. Making their mattresses right here in San Francisco helps to bolster the economy at a time when it is needed all around. The Futon Shop offers hundreds of eco-friendly sofa bed frames, over 30 green and organic mattresses and sofa bed mattresses, eco-friendly platform beds, and so many washable and removable futon covers, you can mix and match to find the perfect combination. the choices are endless. By offering its customers a large and diverse organic and green bedding and green furniture. The Futon Shop] is a leader in their field. This huge product selection is one of the key aspects that appeals to its 2 million customers.
"A tremendous merchandising effort has been successfully implemented," Suzanne Diamond says. "We plan on adding an additional 50 stores across the country selling our organic line of futons, sofa beds and green furniture by the end of the year, with showrooms and participating licensed dealers.
About The Futon Shop
The Futon Shop was Founded in 1976 by a husband and wife team: Arthur and Suzanne Diamond. The Futon Shop has quickly become one of the global leaders when it comes to retailing organic and green futons, mattresses and furniture; both in their brick and mortar stores and on-line. Most of the company's organic and green futons and organic mattresses are in stock and delivered in just a few days because they make the mattresses themselves. The company is also listed in the prestigious Sustainable Furniture Council and The Organic Trade Association, as well as hundreds of other affiliate organic and green programs.
The newest product release is the soft viscose mattress, made from soybean based 4 lb memory foam, natural cotton, and 733 pocket coils. This futon mattress is green, soft, bouncy and outrageously comfortable. If you love natural chemically free latex as you every day sofa or mattress check out their Essence Collection, it is sure to please you. So whether you need a soft, firm, organic mattress, a small twin futon sofabed, full size futon or queen size organic sofa bed, you will find it at The Futon Shop.
Contact:
Q Thang Do, Director of Public Relations
q(at)TheFutonShop(dot)com
415-920-6800
http://www.thefutonshop.com
###