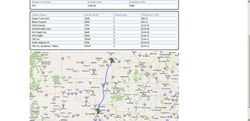 "We believe this is a step in the direction to help prevent re-class and re-weigh fees"
Olathe, KS (PRWEB) February 11, 2011
All Modes Transport announces AMT Freight Lines partnership with over 200 nationwide LTL carriers to promote a better customer shipping experience. Through All Modes Transport free web based freight quoting tool, Shippers will be able to quote higher class and higher density class shipments with traditional LTL rates and with LTL flat rates via AMT Freight Lines.
Through these partnerships AMT will be able to offer a better range of LTL shipping rates, while also giving a higher savings than traditional LTL rates.
All Modes Transport a freight company based in Kansas City, was established to provide shippers the best service and capacity with freight transportation services throughout North America and the world.
We are no stranger to freight transportation with over 75 years of transportation experience among our employees..
All Modes Transport' sales and operations staff also offer substantial senior management experience in the transportation industry. The entire team is prepared to provide service for you and your company with competitive rates, on-time dispatching, claims solutions and much more.
Customer service isn't a department at All Modes Transport, it's our business. We recognize the importance of both follow-through and communication. These are paramount to maintaining high customer satisfaction. We have also invested heavily in the latest information technology to facilitate dispatch efficiency and load coordination. In fact, our shipment tracking system allows customers to view the status of their shipments on the fly via the Internet. For our customers who need a quick update of a particular shipment, this option has proven to be an excellent management and logistics tool.
Questions or free demos can be sent to sruggiero (at) allmodestrans (dot) com
Or call 913-674-4760
http://www.allmodestrans.com
###