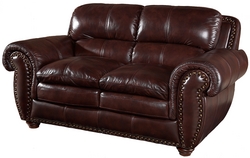 "Leather Italia has a very nice, classic design, and their people are great to work with." Sara Collins, leather furniture specialist.
Sandpoint, ID (PRWEB) February 11, 2011
ClickShops, a favorite online source for outsized home and garden items, announced today the addition of Leather Italia to its line of leather furniture manufacturers at its subsidiary site LeatherFurniture.com.
"I am very excited to sell this line," Sara Collins, LeatherFurniture.com specialist, said. "Leather Italia has a very nice, classic design, and their people are great to work with."
Leather Italia USA is one of the most recognizable manufacturers of leather furniture in the United States. Leather Italia was founded by Michael Campbell in 1996. It quickly grew into a large, knowledgeable, and widely recognized brand name.
Leather Italia products appeal to both traditional and transitional tastes, with classic designs and features like hardwood feet and nailhead trim. They offer leather ottomans, leather sectionals, and leather sofas in a variety of styles.
Leather Italia joins a long list of renowned leather furniture manufacturers offering their fine products on LeatherFurniture.com. Whether consumers are looking for traditional or contemporary pieces, they can find what they want with the variety of styles and prices at LeatherFurniture.com.
Collins discussed some of these other brands. "Some of our popular brands like Tosh and EHO have a more modern design and also offer a lot of different custom color options," Collins said. "They are flexible and unique brands."
Tosh specializes in elegant and sophisticated sectional furniture, while EHO features sleek, ultra-modern designs in trendy color options.
Collins added that Abbyson Living is another popular brand with a very classic, country style. "They also have some modern pieces and have excellent customer service," she said.
Abbyson Living is noted for having a variety of leather furniture styles and prices to fit every budget. Abbyson prides itself on versatility, quality, and exceptional service.
Leatherfurniture.com also features a large selection of Coja furniture, where each piece is custom made to the client's precise specifications. Coja was founded in Holland more than 75 years ago and has a reputation for beautiful designs and quality workmanship. The company became established in the US in 1986 and staked its reputation on maintaining old world furniture crafting techniques along with exacting quality standards.
Once thought to be the domain only of the modish and moneyed, leather furniture has found a place in the homes of active families with modest incomes, becoming increasingly popular due to its stylishness, durability, and range of price points. And LeatherFurniture.com is proud to be the premier stop for leather sectionals, leather sofas, leather recliners, and every other kind of leather furniture.
Leather furniture offers a world of possibilities in design. There are a wide variety of styles, colors, and textures available. Anything that upholstery can do, leather can do better. Leather is great for households with children and pets. It is naturally stain and odor resistant, easy to care for, and repairable should the unthinkable happen.
The key factor in leather's outstanding durability is its grade. Higher grades like full and top grain mean a longer lasting piece of furniture. Upholstery begins to show wear just a few months after purchase, but leather keeps its good looks for years. Even when it begins to wear, full and top grain leather take on an attractive patina that makes the leather look that much better.With proper care and maintenance, these premium pieces may last a lifetime.
Full grain leather does cost more initially, but the investment pays off in the long run, with leather pieces lasting four to ten times longer than their fabric counterparts. Leather furniture varies widely in price, depending on leather grade and quality of craftsmanship, but it normally costs about twice as much as a comparable fabric piece.
When it comes time to purchase, buyers should do some homework: know the different types and qualities of leather, comparisonshop for the best prices, balance price with durability, and determine which features are essential and which can be compromised on.
LeatherFurniture.com has some of the best selection, lowest prices, and most exceptional customer service on the web. They also offer extended warranties, damage protection, and features like white glove delivery, which takes care of any assembly, removes the packaging materials, and puts that new sofa right where it belongs.
LeatherFurniture.com has been successful, in no small part, because of its affiliation with ClickShops Inc. In just a few years, ClickShops has grown from a single site to over a dozen, selling large home items like furniture, safes, and even garages. Recently, ClickShops has become the go-to site for large consumer items, racing to the tops of several major search engines with sites like GunSafes.com, MassageChairs.com, and TheGarageDealer.com.
Perhaps the most exciting news coming out of ClickShops is their innovative new concept of domain profit sharing, an arrangement where the owners of domain names can contract with ClickShops to develop their websites and market their products, all for a fixed percentage of the revenue. This new concept promises to take unused or underused Web domain names and turn them into something functional and profitable.
By staying on the cutting edge of web shopping trends and re-investing its profits into the company and the people who make it work, ClickShops has managed to avoid the recent economic turmoil experienced by many. ClickShops has grown quickly since its creation, and is poised for strong, steady growth in the future. LeatherFurniture.com will be a big part of that growth.
###