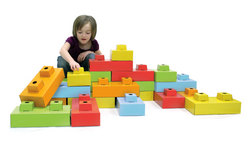 We're thrilled to provide kids with creative tools that foster big imaginations
New York, NY (PRWEB) February 10, 2011
With the bold statement of "My Bricks Are Bigger Than Your Bricks", Fat Brain Toy Co. is set to launch it's latest toy, Dado Bricks, at the American International Toy Fair in New York City.
Known for it's colorful toys and artful designs, Fat Brain Toy Co. is going "big" this year with the introduction of Dado Bricks, an innovative set of interlocking cardboard bricks that measure 12"x6"x3". Available in 30 and 50 piece sets, Dado Bricks encourage kids to dream big AND build even bigger! To prove it's point, the company's entire booth will be constructed from over 2,000 of these versatile cardboard bricks.
"Kids have no problem thinking big," states Mark Carson, the founder of Fat Brain Toy Co. "We're thrilled to provide them with the tools that foster their big imaginations".
Besides Dado Bricks, Fat Brain Toy Co. is also introducing nine other specialty toys and brain-building games. Showcased at booth #6245 in the Javits Convention Center, the following toys and games will be making their official launch at the American International Toy Fair:
Tobbles™ - Stack, twist, balance, wobble and spin
Six spheres nest inside each other, each a different weight, allowing for endless configurations. Little hands will delight in the never-ending discovery of Tobbles™. A design-savvy conversation piece that will provide hours of abstract fun for all ages. Ages 1+
HexActly™ - Congruently Cool
Who knew geometry could be so beautiful? These twenty-four pieces of congruently cool and colorful hexagons fit together with precision. These chunky, hexagonal pieces invite creativity and reinforce visual spatial skills while children of all ages stack, balance and sculpt patterns to form original creations. Ages 3+
Palette™ - How Colorful Is Your Memory?
Are you keen on green? Think you know pink? Got a clue about blue? Then Palette™ is the game for you. You'll be challenged to put your memory to the test in just five short seconds as you attempt to memorize a specific shade of color and then match it to the correct color wheel. You might just be surprised at the different ways your mind and eyes interpret color. Ages 6+
Reflection™ -Things Are Not Always as They Appear
Illusion, insight, intuition and imagination combine for a unique experience where players must think in multiple dimensions. Players observe a card while determining the axis on which to place a mirror to score the most points by utilizing the mirror's reflection. Ages 8+
Say Uncle!™  - The Game of NOT Giving In! Squirm, pout and kick all you want... at some point you're just going to have to give in and say "Uncle!". In this cunning, strategic and downright fun-to-play card game, players force their opponents to spell the word "U-N-C-L-E" using cards in the deck while attempting to get rid of the same letters played on themselves! Ages 6+
Spud!™ - The Potato Passing Party Game!
Definitely not your typical game of "HOT POTATO"! Mashed, baked or fried, whichever you prefer, this fast-paced and silly game of tater tossin' fun will have players scrambling to keep up with the action. Be the last player with five potatoes in front of you and win the game! Hand-eye coordination combines with quick thinking as players react to cards in their hand while keeping a close eye on their opponent. Ages 6+
Acuity™ - Flip, Turn, Match, Win!
Acuity™ is the clever matching game of quick visual perception where players race against each other to discover and match hidden patterns. Be careful! Your mind's eye could trick you. With simple rules, Acuity™ is a game the entire family can play together. No reading is required - just the ability to flip, turn and match!  Ages 6+
Block Builders™ - Architecture Recreated by You
What looks like a set of six simple blocks is suddenly transformed, configured and manipulated into skyscrapers, modern art sculptures, geometric marvels or just about anything else you can imagine. Block Builders™ includes 50 challenge cards that encourage young visionaries to recreate a structure using only the number of blocks indicated. A great exercise in visual perception and spatial awareness, Block Builders™ is a wonderful introduction to architecture, structure and design. Ages 5+
Ivan's Hinge™ - Fold it, flip it, fidget it... just figure it out!
Looks can be deceiving, and this compact little puzzle is no exception. Puzzle addicts beware! You won't be able to put this brainteaser down! From the fascinating mind of famed inventor, Ivan Moscovich, Ivan's Hinge™ combines concentration, logic, pattern matching and more. Ages 8+
Visit Fat Brain Toy Co. in Booth #6245 at American International Toy Fair to see all these products in action. Or a downloadable version of their press kit can also be accessed at: http://www.fatbraintoyco.com/press/presskit.pdf
About Fat Brain Toy Co. 
Fat Brain Toy Co. designs, develops, and distributes specialty toys, games, and gifts. Identifying a need for the development of more design-inspired educational toys, the company introduced its first original creation, Dado Cubes™ in 2006.  Since that time, Fat Brain Toy Co. has created more than 20 award-winning toys.  For a closer view of Fat Brain Toy Co's mind-building toys & games visit http://www.fatbraintoyco.com.
# # #