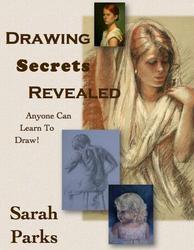 ANYONE can learn to draw.
Chesapeake, VA (PRWEB) February 11, 2011
You can draw. Many adults are embarrassed by their childlike drawings and paintings even though they have progressed in other areas of life. That is because being able to draw is mostly a visual and perceptual activity of the right hemisphere of the brain, the seat of creativity as suggested by modern brain research.
Experience has shown that right brain activity has been undervalued by the educational system in favor of the more mathematical, verbal, and logical left brain thought processes. It's not surprising that most adults assume they don't possess artistic talent because their drawings look like a seven-year-old's -- that's about when school starts for children.
The arts and music have long held a position of lesser importance in educational legislation in the U.S. despite the fact that drawing and other artistic pursuits are purported to increase creativity in other areas of life. According to Daniel Pink, author of A Whole New Mind: Why Right-Brainers Will Rule the Future, "What's troubling is that our system is obsessed with standardization at the very time when the future of our economy depends on the opposite." And in the words of Larry Rosenstock, CEO of High Tech High, a charter school in San Diego, California, "You want kids who are math whizzes, yes. But you want them to also have the creative talent to apply those math skills to find answers to big questions."
Creativity is highly valued in the corporate world. So the link to drawing and tapping into right brain modes of thought is important. Drawing may seem like a narrow creative venue. Obviously, there are areas of work that depend on artistic talent. "But how," you ask, "can that possibly translate in business?" Artistic creativity is involved in designing a new company logo or letterhead, incorporating effective graphic organizers and mind maps when brainstorming in a meeting, or creating an impactful presentation with eye-catching visuals. These skills can all be sharpened by developing a drawing ability.
But beyond just drawing, any artistic pursuit galvanizes the right brain, pulling it from its comfortable backseat position and bringing its processes and strengths to the forefront. And when you incorporate specific exercises aimed at reactivating the right brain, your right brain begins to grow accustomed to having a more direct role in your thought processes even in areas that generally seem more left-brained. Dr. Betty Edwards believes that right brain drawing exercises will benefit "creative persons from fields other than art who want to get their working skills under better control and learn to overcome blocks to creativity . . . Creative solutions to problems, whether personal or professional, will be accessible through new modes of thinking and new ways of using the power of your whole brain." So it's no wonder that through years of traditional schooling, most adults have not progressed in their artistic skills.
A solution to this dilemma could be the newly launched "Drawing Secrets Revealed" series by professional artist Sarah Parks, which incorporates video demonstration, exercises, and research that will help students access their creative right brain's visual and spatial ability to help them really "see like an artist," no matter how much or how little training they have had. Yes, drawing is a learnable skill - so anyone who really wants to learn to draw can with professional guidance and practice.
For a monthly subscription of $27, Sarah is offering a 12-part online drawing course which is paced weekly for maximum absorption. This course is valued at several hundred dollars as a comprehensive, college-level course. Sarah provides easily understood drawing instruction both for the beginner and the more experienced artist, which will provide a good foundation if the student wants to progress to color media like oil, watercolor, pastel, etc. Rather than a drawing class which is restricted to a physical location, this online video series is tailored for an individual's needs and pace -- giving the convenience both in price and location to be able to follow along with all the materials and guidance you need.
Sarah is a life-long artist who graduated magna cum laude with two art degrees and is a member of The Portrait Society, The American Society of Portrait Artists, and Oil Painters of America. Her work can be viewed at http://www.sarahparksartist.com.
Her encouraging, practical approach with video demonstrations of each lesson will set prospective artists on their path to being the artist they always wanted to be!
Visit http://www.DrawingArtInstruction.com for more details on the package features and how to get started.
# # #