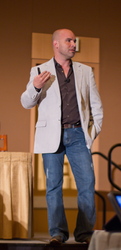 "Cash buyers are flooding to this real estate market. It is a great time to build a business around helping them to get involved." - Kent Clothier
Boca Raton, FL (PRWEB) February 9, 2011
On February 8, 2011, The Wall Street Journal released a front-page story titled "Cash Buyers Lift Housing".
In the story some startling statistics were released. "Cash buyers represented more than half of all transactions in the Miami-Fort Lauderdale area last year, according to an analysis from real-estate portal Zillow.com. The percentage of buyers in Phoenix paying cash hit 42% in 2010 - more than triple the rate in 2008, according to Raymond James's equity research division." See Story Here
"These are the same statistics that we have been promoting for the last two years", says Kent Clothier, a national real estate investment expert based in Boca Raton, Florida. "We identified in early 2009 that cash buyers were aggressively moving into markets across the country. We not only designed our own online systems to identify these buyers, but subsequently built a very successful real estate business in Memphis, TN by working with these buyers."
According to Clothier and his team at REI Marketing, LLC, cash buyers have been very active in most markets around the country and are simply looking to take advantage of the all-time lows in pricing. "These buyers are not your typical institutional buyers. These are successful business people - doctors, lawyers, small business owners, etc - that are simply trying to invest in a fantastic real estate market," says Clothier. "Financing is no longer an option for investment buyers, so they are bringing cash into the market and buying these properties at all-time lows for long-term hold."
Kent Clothier is the CEO and Founder of REI Marketing, LLC, and a real estate investment and education company based in Boca Raton, Florida. Kent and his family run one of the most successful residential real estate investment companies in the country, MemphisInvest.com - having bought and sold over 1,000 homes since 2005. In addition REI Marketing, provides two national based services to the real estate industry, Find Cash Buyers NOW and 1-800-SELL-NOW.
Find Cash Buyers NOW is a national database of real estate cash buyers and online tools to market to and interact with these buyers. With thousands of users nationwide, this tool has become the industry leader in helping real estate professionals to build their own database of cash buyers for their real estate businesses.
To learn more, visit http://www.FindCashBuyersNOW.com
1-800-SELL-NOW is the nation's leading vanity brand for real estate professionals marketing directly to motivated sellers in their local markets. Currently in over 670 markets, the brand allows real estate professionals to attract truly motivated sellers directly to their business with minimal investment.
To learn more, visit http://www.1800sellnow.com
###