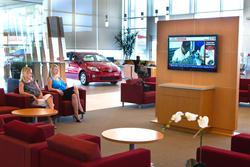 Exton, PA (PRWEB) February 10, 2011
Scala, the world's leading software provider for end-to-end digital signage solutions, will showcase its new Scala QuickStart™ software with HP SignagePlayers, as well as display Scala 5 installations from networks around the world at Digital Signage Expo 2011, February 23-24, at the Las Vegas Convention Center (Booth 500).
The new and affordable HP SignagePlayer/Scala QuickStart solution features a locked-down Microsoft® Windows® Embedded operating system and a preconfigured Scala Player for outstanding performance and reliability. The simplified QuickStart web interface allows display of videos, pictures, crawls, interactive Adobe® Flash and Scala Scripts with dynamic information in any combination up to 1080p, allowing the system to be used in a wide range of applications. The HP SignagePlayers can also be easily connected to any Scala Content Manager anywhere in the world.
Scala has partnered with HP for DSE 2011 and will be using their HP SignagePlayers and screens in the Scala booth, including HP's 42-inch digital signage touchscreen and HP's 47-inch LD4700. This is the first time that HP featuring QuickStart will be showcased at this level in the United States.
There will also be an exhibition of Scala 5's best content and applications. It will feature worldwide installations of digital signage networks powered by Scala, including the 2010 Digi Award-winning installations for Texas State Technical College and 4Food. Other past award winners will also be exhibited, including Sprint, Miele Inspirience Center and the Amsterdam RAI Convention Center. Additionally, finalists for the DSE Apex 2011 awards will be featured, including Camelback Toyota and Larnaca International Airport.
The Scala 5 content showcase will also feature applications in retail banking, wayfinding, healthcare and digital menu boards. Certain applications and content will be interactive on the HP LD4200tm touchscreen.
Attendees will also have the opportunity to see Scala Ad Manager, a complete advertising management solution for connected signage networks, and SignChannel, a revolutionary new service for easy-to-use, do-it-yourself digital signage.
Christie, a global visual technologies company, will be providing Scala with their Digital MicroTiles, which will be part of the main display in the booth.
IAdea, a pioneer and leader in the digital signage media appliance market, will be providing Scala's booth with Signboards, displaying information about the various applications.
For more information about Scala or to schedule an interview with a Scala representative at DSE 2011, contact Debra Yemenijian at 610-269-2100, ext. 224.
About Scala
Driving more than 500,000 screens worldwide, Scala is a leading global provider of digital signage and advertising management solutions. Scala is the world's first connected signage company, offering the leading platform for content creation, management and distribution in digital signage networks and the first unified platform for advertising management of both traditional and digital signage networks. The company's digital signage customers include Rabobank, IKEA, Burger King, T-Mobile, Virgin MegaStore, Warner Brothers, The Life Channel, Rikstoto, Repsol, NorgesGruppen, Audi, ECE Flatmedia, Kaufhof (Metro Group) and thousands more. Advertising management customers include CBS Outdoor, Clear Channel Outdoor and Magic Media, among others. Scala is headquartered near Philadelphia, USA, and has subsidiaries in Canada, The Netherlands, France, Norway, Germany and Japan, as well as more than 450 partners in more than 65 countries. More information is available at http://www.scala.com.
©2011 Scala, Inc. 350 Eagleview Blvd. Exton, PA 19341. Scala and the Exclamation Point Logo are registered trademarks of Scala.
###