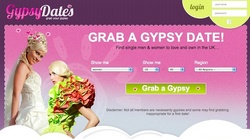 single men and women to love and own in the UK
(PRWeb UK) February 10, 2011
Following the success of the hit Channel 4 TV show My Big Fat Gypsy Wedding, WeLoveDates.com have announced the launch of Gypsy Dates, a new dating site which allows single Brits to "grab a gypsy" of their very own.
With Britain in the grip of an enthusiastic obsession with gypsy weddings following the hugely popular series, Gypsy Dates does precisely what it says on the tin: it enables lonely British singletons to "grab a gypsy date".
The website's tagline advertises "single men and women to love and own in the UK". In reference to the traveller custom of "grabbing", as seen in the series, the lighthearted website offers a disclaimer: "Not all members are necessarily gypsies and some may find grabbing inappropriate for a first date!"
With peak audiences exceeding 7 million viewers, Channel 4's My Big Fat Gypsy Wedding has drawn in the highest number of viewers since 2008's series of Big Brother. Its popularity is largely attributable to the bizarre spectacle of wedding dresses so huge in volume and weight that the light-framed young gypsy brides who wear them are barely able to remain upright.
The entertaining Gypsy Dating website is the latest addition to a portfolio of online dating websites offered by WeLoveDates.com, which caters for all members of the UK's singles community regardless of their persuasion. The profiles of potential matches can be ordered by location, interests or characteristics, making it easy to find the perfect partner. Visit http://www.welovedates.com/gypsy-dating/ for more information, and to "grab a gypsy date" of your own.
# # #