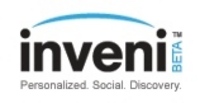 "Inveni will completely redefine the television and movie guide, forever changing how consumers interact with and make choices about media."
Minneapolis, MN (PRWEB) February 11, 2011
Inveni, LLC announced today it has closed a $483,333 seed round led by a group of Silicon Valley angel investors, bringing total investment in the company to date to $1.7 million. For three years, the Minnesota-based company has been quietly building a personalization platform that is redefining the way consumers decide what movies and television shows to watch.
Inveni announced itself and first showed its web site and browser plug-in at a technology conference in San Francisco in September 2010. The Inveni service is a "social decision engine" that helps users find, choose, and watch great movies and TV shows. Since that launch, the company has remained in stealth mode, gathering input from users to further enhance the Inveni experience.
"I'm excited about our seed round," said Aaron Weber, CEO and founder of Inveni. "But I'm even more excited about the next iteration of the Inveni technology that's coming soon. This spring, Inveni will completely redefine the television and movie guide, forever changing how consumers interact with and make choices about media."
Here's how the Inveni service works: It gathers all the preferences a consumer has already established around the web and creates a unique "Taste Profile" for that person. When a consumer uses Inveni, these preferences are combined with millions of crowdsourced recommendations, across 200,000 movies and TV shows. "This rich and unique combination of data makes Inveni's recommendations unlike any other, giving the feeling they come from a real person that knows you extremely well," said Weber.
The Inveni service becomes even more personalized by allowing a consumer's friends and the "Inveni crowd" to effortlessly send recommendations to each other through a unique one-click process.
About Inveni, LLC
Inveni (http://www.inveni.com) is a software development company based in Minnetonka, MN that is dedicated to driving the personalization revolution that will be Web 3.0. It was founded in 2008 by an experienced Internet entrepreneur, Aaron Weber, and has a stellar group of successful Internet-industry executives serving as advisors. It is privately funded. Follow Inveni on Twitter at http://www.twitter.com/discoverinveni and on Facebook at http://www.facebook.com/inveni.
About Aaron Weber
Prior to founding Inveni LLC, Aaron was a cofounder of W3i (formerly Freeze.com), a software marketing company based in Minnesota. Aaron helped bootstrap the company to $25 million in annual revenues within seven years. W3i has been profitable every year since its inception and continues to be a leader in the software application marketing and distribution business. Aaron has received several awards for entrepreneurship, including the SBA Young Entrepreneur of the Year Award in 2005, and the Ernst & Young Regional Entrepreneur of the Year Award in 2006.
# # #