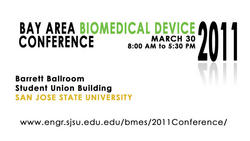 Santa Clara, CA (PRWEB) February 11, 2011
On March 30, 2011, the Biomedical Engineering Society at San Jose State University will be hosting the Second Annual Bay Area Biomedical Device Conference.
Invited medical device experts from industry, academia and research institutions will be presenting and discussing recent developments and future trends.
"The Bay Area contains a large concentration of companies that conceive, design and manufacture a wide variety of biomedical devices. A conservative estimate puts the number of companies at 400, and the real number is probably much higher," explains Dr. Guna Selvaduray, Professor and Biomedical Engineering Coordinator at the College of Engineering at San Jose State University. "However, there is no local forum where the professionals in these companies can interact and network with each other and with university researchers. This conference series that SJSU has initiated is intended to provide such a venue, and also improve the collaborations between the corporate and academic worlds."
Working professionals in the medical device industry and related industries interested in gaining knowledge and awareness of recent breakthroughs, engineering solutions, and regulations in the medical device field are encouraged to attend this convention.
The renowned and distinguished speakers invited for this year include:

Roy Bloebaum, Ph.D., University of Utah
Debbie Brown, Asthmax
Lisa Ferrara, Ph.D., Orthokinetic Technologies
Hanson Fong, Ph.D., University of Washington
Mark Gonzalgo, M.D., Ph.D., Stanford University
Bryon Lambert, Ph.D., Abbott Vascular
M. Meyyappan, Ph.D., NASA Ames Research Center
Kim Butts Pauly, Ph.D., Stanford University
Garth James, Ph.D., University of Montana
Satya Prakash, Ph.D., McGill University
Sanjay Shrivastava, Ph.D., ev3
Sepehr Fariabi, Ph.D.
Neha Choksi
Topics covered at the Conference will encompass many facets of the medical device industry, and will provide professionals an opportunity to learn about recent developments in:
Imaging technologies
FDA and CE regulations
Drug and cell encapsulation
Infections on implanted devices
Orthopedics and prosthetics
Advanced materials and technologies for medical device applications
This conference is also aimed at improving networking among industry professionals, university-industry collaborations, as well as representatives from our sponsors and exhibitors. This event is sponsored by Intuitive Surgical, Penumbra, NUTEK Corporation, San Jose State University: President's Office, National Biomedical Engineering Society, BAE Systems, Pulse Systems, Tdc, and Touchmark and co-sponsored by the Chinese Institute of Engineers, Golden Gate Polymer Forum, Bio2Device, Bodycote, and MEPTEC.
Additional information about the conference and registration information is available at:
http://www.engr.sjsu.edu/bmes/2011Conference/
About BMES@SJSU
The Biomedical Engineering Society at San Jose State University is dedicated to promoting the profession of biomedical engineering through the study, research, and discussion of current issues and technological advances. The student chapter promotes professional and academic excellence to its members by supplementing academic knowledge acquired in the classroom with professional, community, and social activities.
###