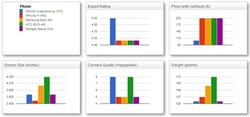 Santa Barbara, CA (PRWEB) February 11, 2011
With smartphones constantly evolving, it has grown more and more difficult for consumers to find out which one is best for them. Before purchasing a smartphone, it's important for potential buyers to find out what important features to look for and to read reviews on various options to find the best phone for them. FindTheBest.com's Smartphones comparison App removes all the marketing jargon from the process and helps users do just that.

Best phone for the camera happy gabber: Nokia N8 (12 megapixel camera)
Best phone for the chatterbox: Samsung Galaxy 580 (16 hours of talk time)
Best phone for the traveler: HTC HD7 (16,384 MB of internal storage space)
Check out this Top 5 expert rated smartphones slideshare.
FindTheBest's SmartPhones comparison App helps users compare any number of phones they are interested in, based on factors including Expert Rating, price, screen size, features, camera quality and talk time.
FindTheBest.com is a socially curated comparison engine that helps users find a topic, compare their options and decide what's best for them.
###