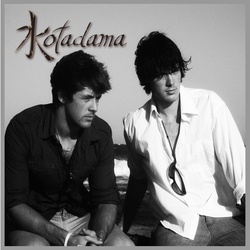 "Every decade or so a band comes onto the scene that takes your breath away. Kotadama is that kind of group." David Kershenbaum
Los Angeles, CA (PRWEB) February 16, 2011
Australian duo, Kotadama debuts their first "self produced" full-length album "Dichotomy" in the United States under the development of multi-platinum, Grammy-winning producer David Kershenbaum/ Music Pros Hollywood (Duran Duran, Tracy Chapman, Bryan Adams) who also Executive Produced the album. Featuring melodic, string-filled rock anthems and soulful ballads with lush, romantic vocals including the hit single "See You Tonight," "Dichotomy" is the culmination of a sweeping three-year journey for brothers Chris and Evan Brown, born and raised on Australia's rural Central Coast.
"Every decade or so a band comes onto the scene that takes your breath away-- Kotadama is that kind of group," says David Kershenbaum. "Chris and Evan have approached their career with an extremely high level of musicianship, dedication and intelligence," he adds. "In addition to songs that are expertly crafted, they have been able to achieve mainstream commercial appeal and keep their musical integrity intact, while touching on important social issues—quite a rare combination."
Kotadama has also opted to remain independent, even after being approached to sign with multiple major labels from all parts of the world.
Self-taught in both guitar and drums, the brothers began writing songs, performing covers and soon formalized the duo's name Kotadama—a Japanese term that means "spirit of words." They have performed at festivals and music conferences worldwide including Osaka, Barcelona, Vancouver, Toronto, and Los Angeles and just returned from the City Showcase in Napier, New Zealand where they were voted one of the top two bands out of over 400 submissions. "Kotadama took New Zealand by storm—great melodies, great lyrics and a sound reminiscent of early Keane!" says Nanette Rigg, City Showcase Producer.
Music Pros Hollywood--"an artist development company, not a label" adds Kershenbaum-- just released the first video from the album entitled "See You Tonight" which is also self- conceived and self–directed by the band.
The song from the video "See You Tonight" unexpectedly charted #1 on two U.S. KISS-FM Stations, catching the attention of the VP of programming at The Cool TV, a new 24/7 cable music channel and is now being featured in over 70 US markets. YAHOO Music will be featuring the video and single in the next few weeks as well.
Tour dates to support the release of "Dichotomy" in the U.S. and Europe will be announced shortly. "Dichotomy" is available on iTunes, Amazon, and the band's website: http://www.kotadama.com.
Contact:
Holly Garman, HMG Associates, Inc.
917.532.4551
mhsgarman(at)earthlink(dot)net
# # #