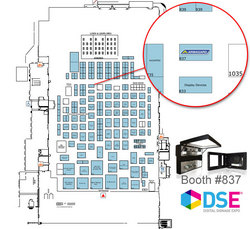 Las Vegas, NV (PRWEB) February 11, 2011
Armagard, premier manufacturers of display screen protection will be exhibiting a range of their LCD enclosures at the Digital Signage Expo (DSE) 2011, Las Vegas this month.
DSE 2011, which runs from 22 to 25 February at the Las Vegas Convention Center, is expected to be the largest gathering of digital signage manufacturers, developers and content creators ever.
Combining rugged exterior protection with a regulated interior system, Armagard LCD enclosures are suitable for both indoor and outdoor locations, and are equipped with the latest innovations that provide lasting longevity of LCD and plasma screens.
As enclosure experts, Armagard have been producing protective enclosures for computers, printers and screens for nearly two decades and specialize in providing cost effective solutions that minimize risk but maximize the display possibilities of an integrated screen.
Allowing the use of standard consumer or commercial grade screens in almost any locations, Armagard's range of outdoor digital signage and LCD enclosures provide all-year-round weather protection and defend against impacts, collisions and variable heat conditions, ensuring comprehensive security for all types of screens.
Demonstrating a range of sizes at DSE, Armagard's LCD enclosure range features some unique, exclusive and innovative solutions for display screen protection; with all LCD enclosures issued with a five-year limited liability warranty.
Based in the UK, Europe and the USA, Armagard LCD Enclosures are shipped worldwide as a means of cost-effective and comprehensive protection for indoor and outdoor digital signage screens.
Armagard's LCD enclosures can be used in various hostile environments ranging from sub-zero locations, to extreme hot conditions, and under direct sunlight.
With a range of enclosures on display at DSE 2011, Armagard's friendly and helpful staff will be available to provide full product demonstrations, product literature, and provide a complete run-down of the various features of their elegant, yet rugged and robust LCD enclosures.
###